C8ke Guide: How to use the C8ke App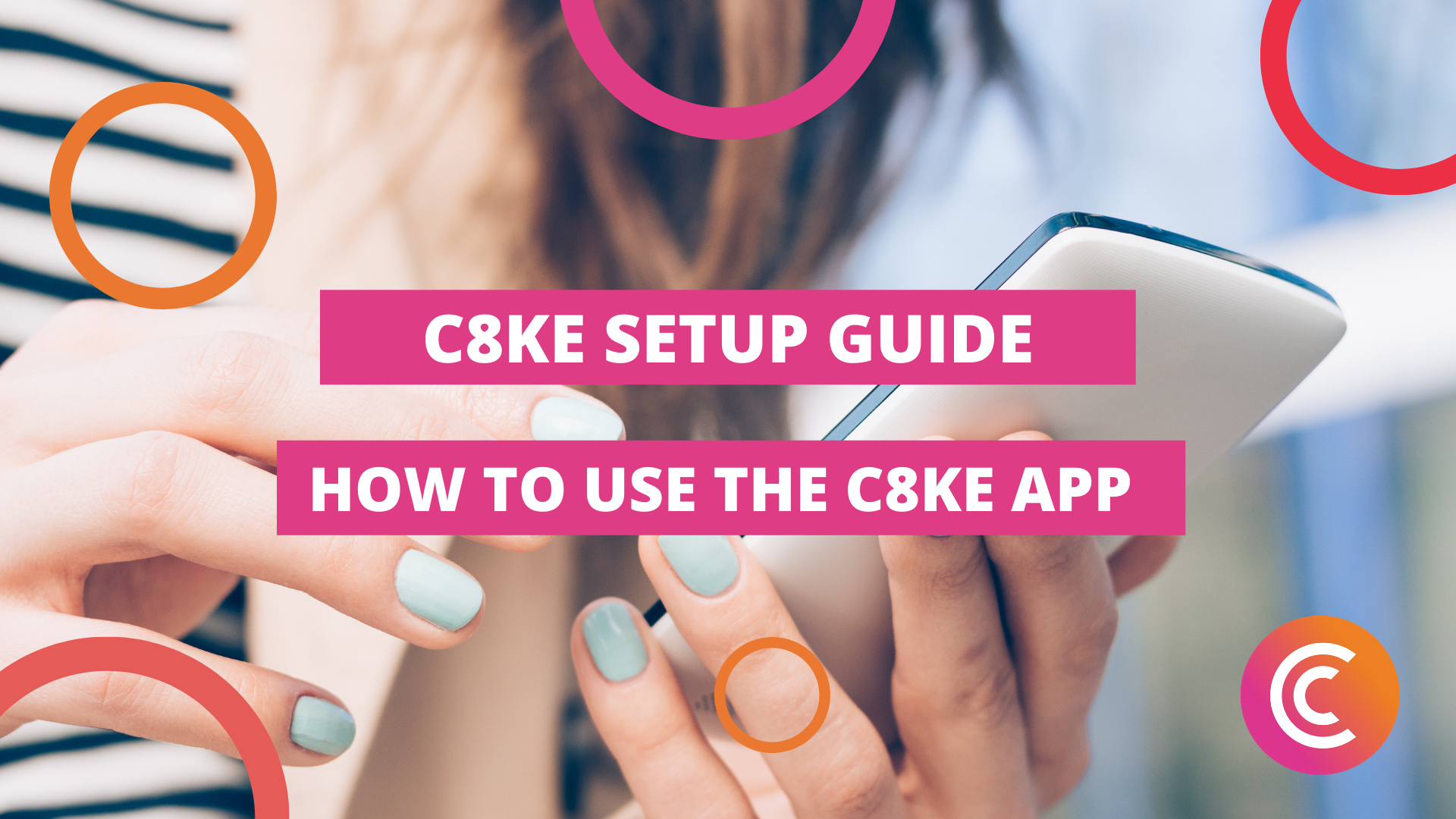 If you prefer to work on your phone, the C8ke app is for you!  Our simple to use interface will get you a custom landing page within minutes.
Step 1: Download the free C8ke App
Click on the links below to download:
Step 2: Enter in your email address and create a password
You can also sign up for C8ke through your Apple ID, Google account or through  Facebook: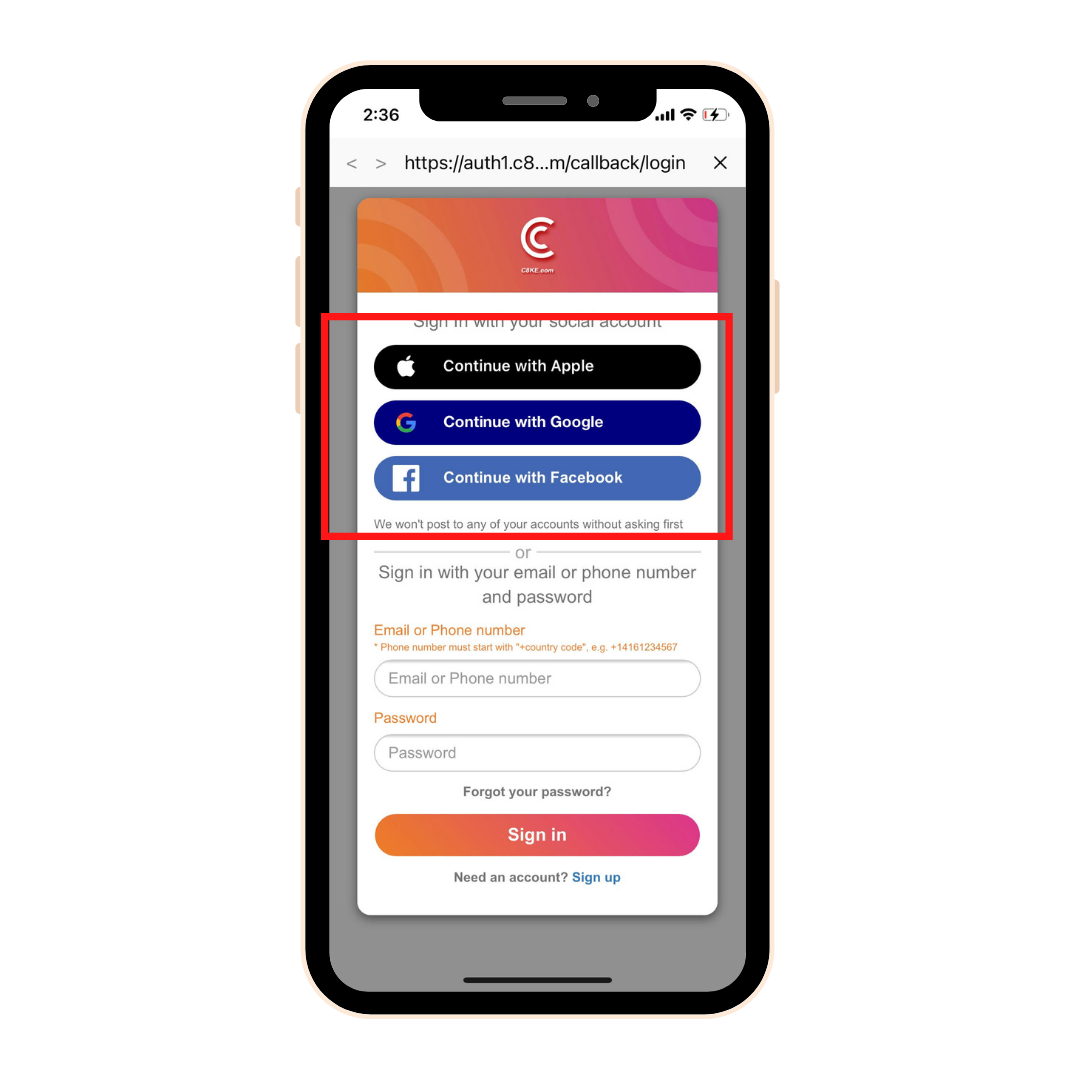 Step 3: Verification Code
A verification code will be sent to the email address you used to create your account. Check all folders including junk for the verification code, then enter it into the C8ke app.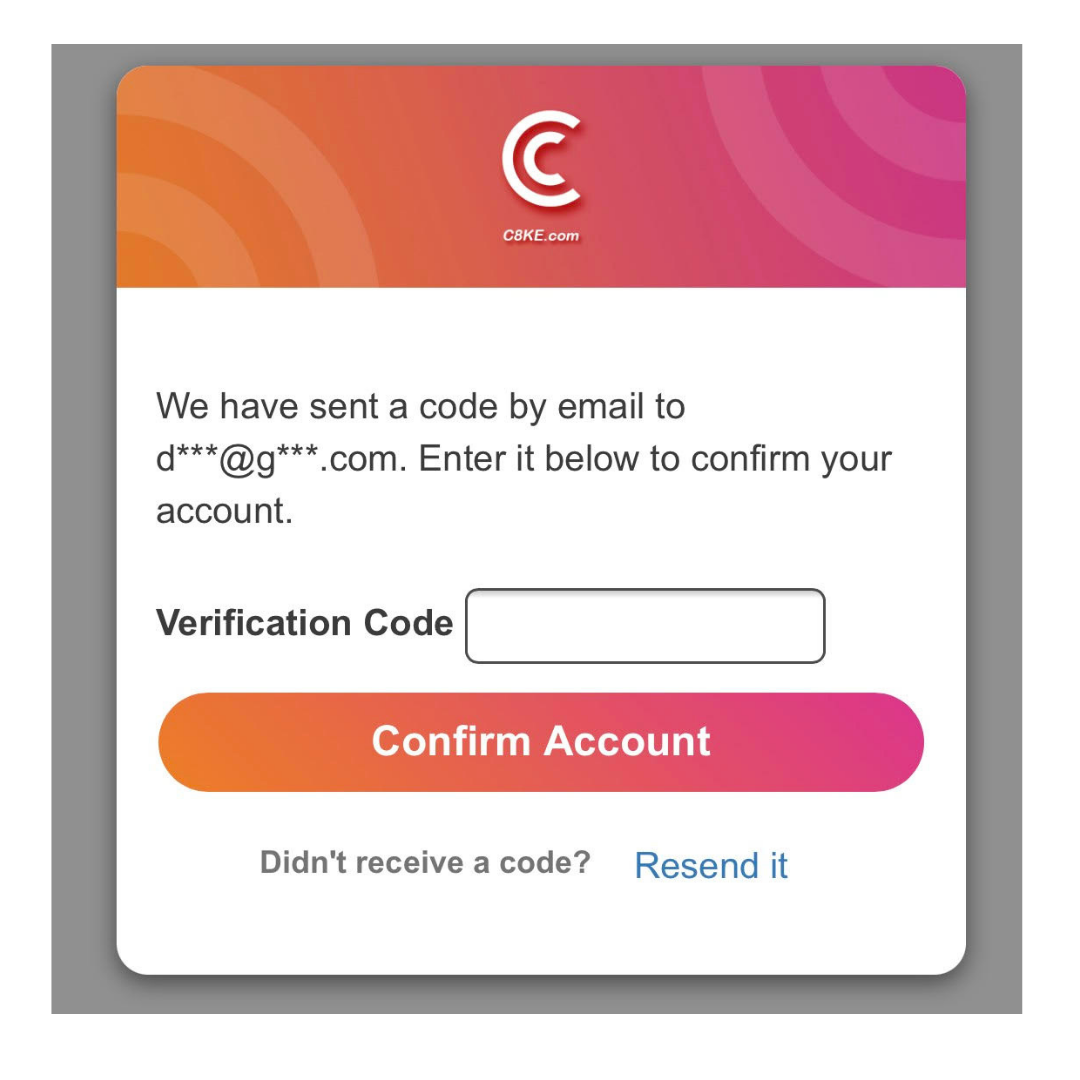 Step 4:  Enter in your Personal Information
To customize your personal information, select Me on the bottom toolbar then select the Edit Profile button at the top right hand corner: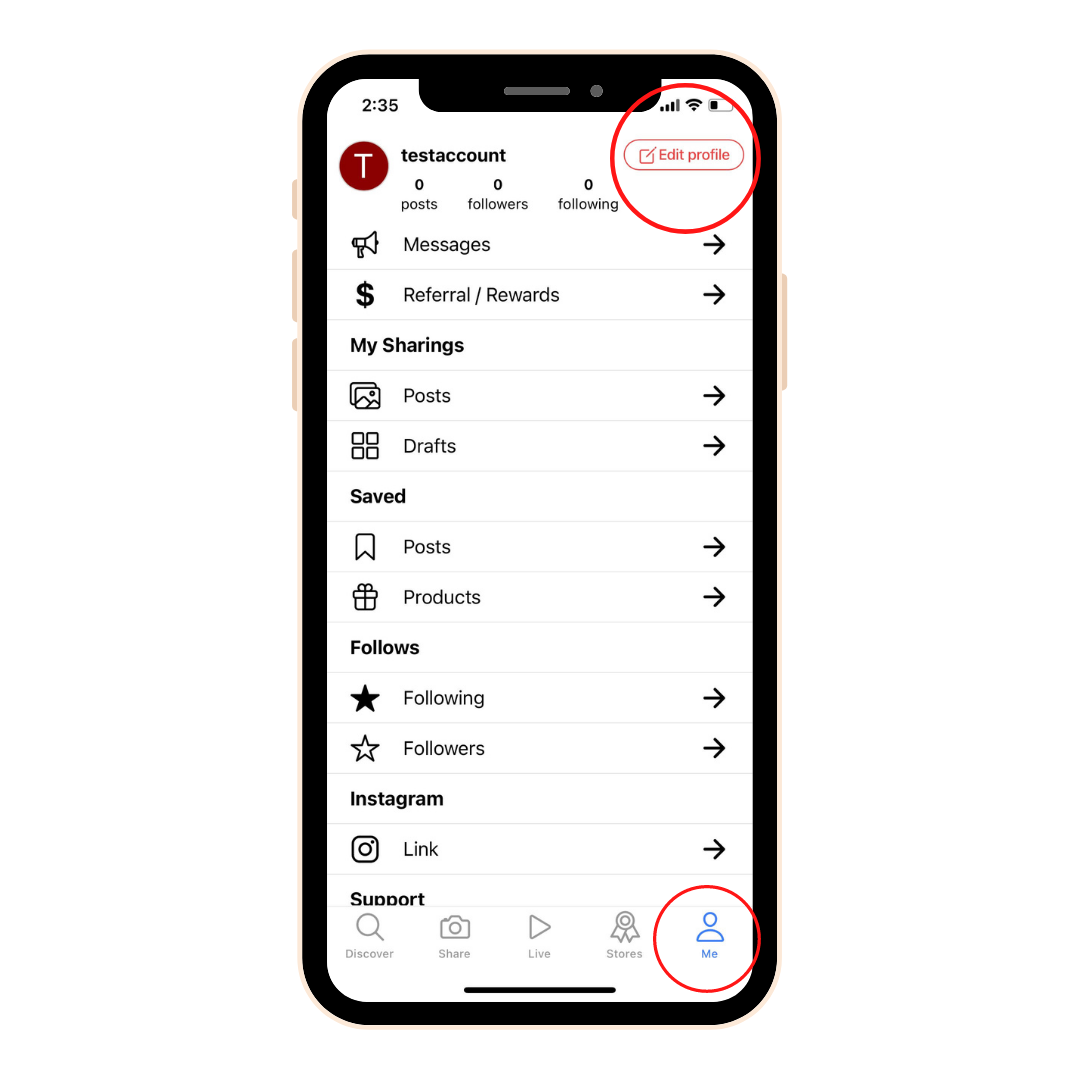 Here you'll be able to add in your personal information like:
Edit your profile picture
Enter in the name of your account
Change your username
Access your URL for your Bio Link
& more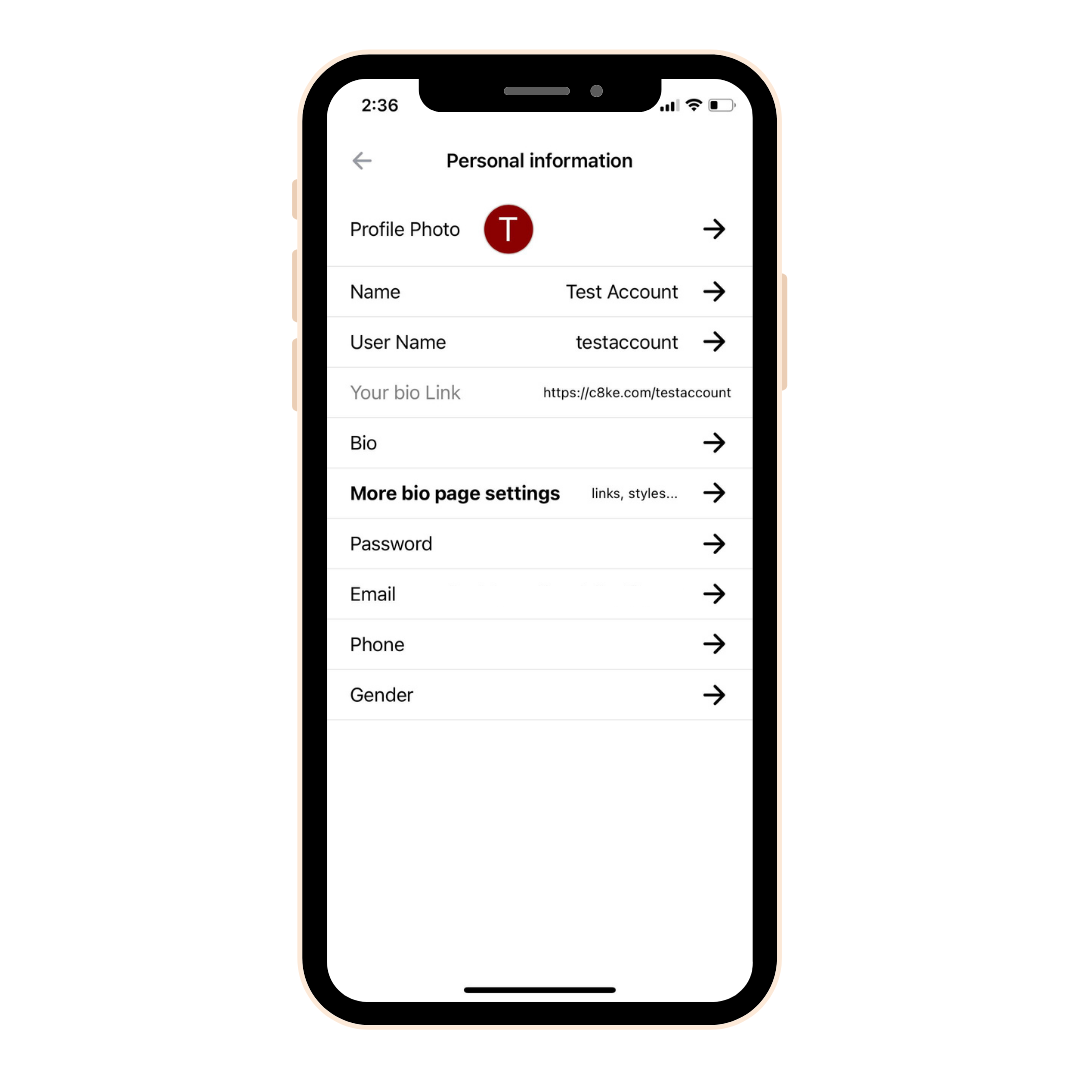 Step 5: Design & Customize your Bio Link Landing Page
It's time to customize your landing page!  This is the page your audience will see when they click the link in your bio!  Click on the More Bio Page settings: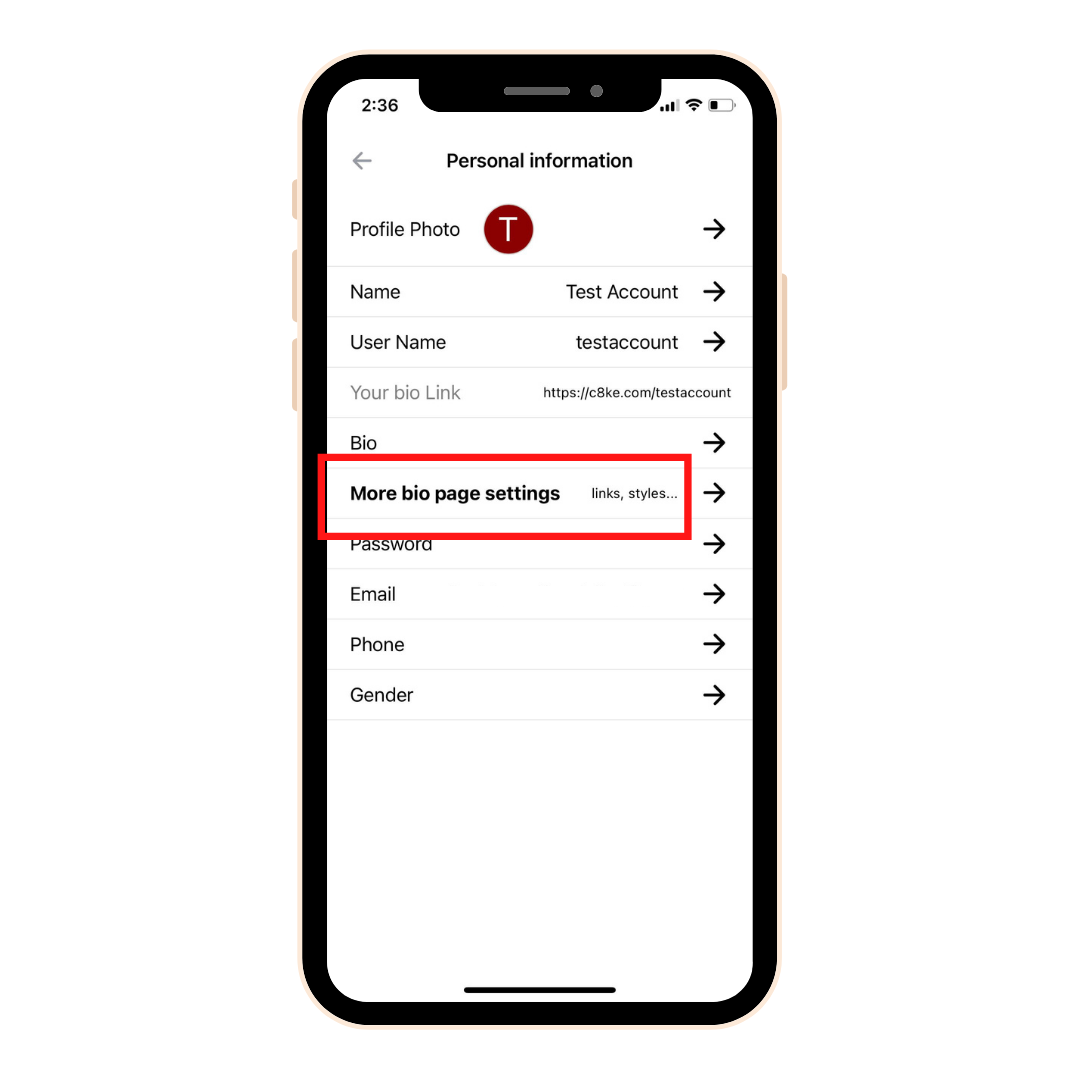 Under the Pages Tab you can:
Copy your custom bio URL
Customize your profile picture and bio layout
Add Social Icon links
Add Quick Links (link to your youtube, TikTok, media Kit etc.)
Enable the Search Box
Make Shoppable Photos & videos
Under the Appearance Tab you can:
Customize the background, text color, font and "open in app" button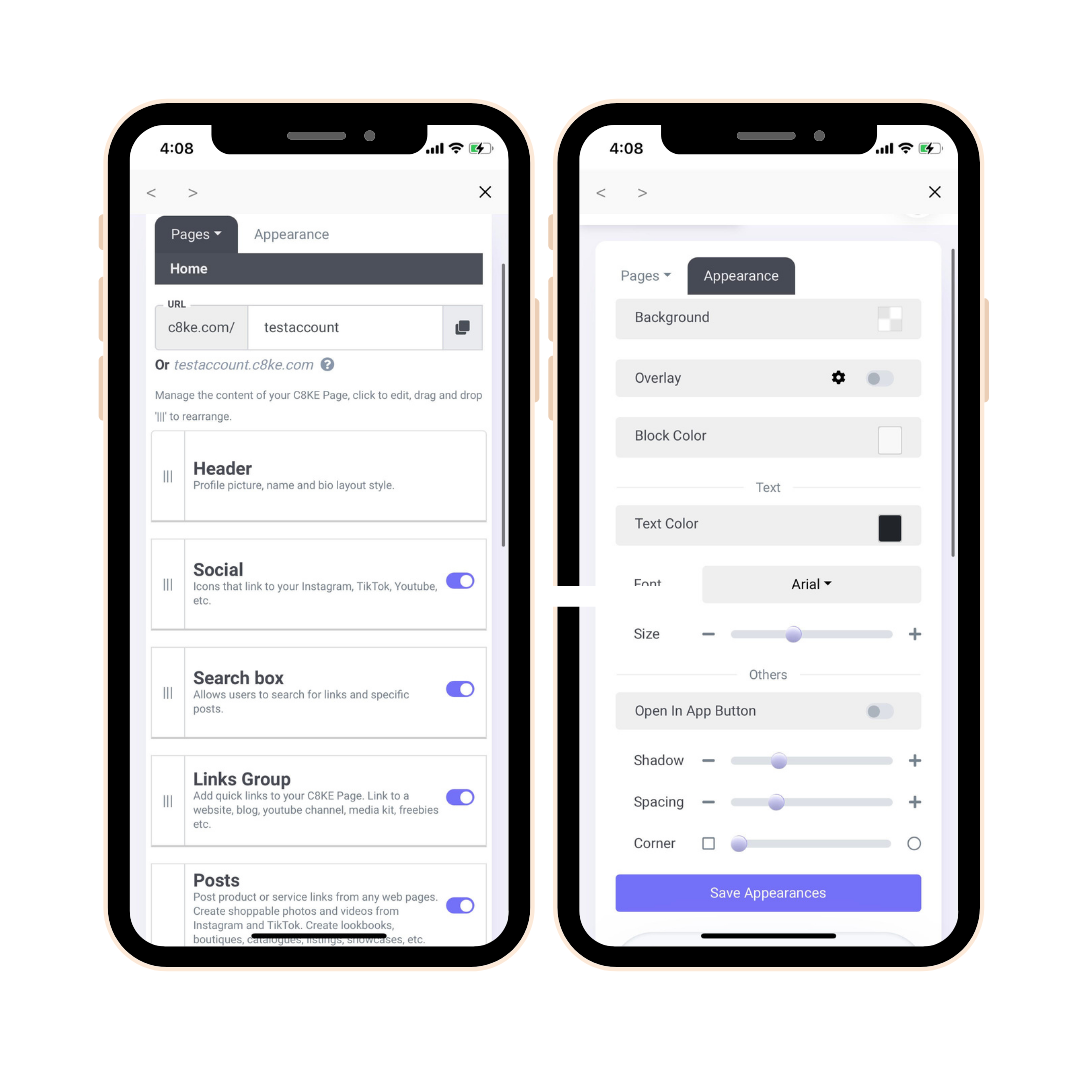 Example Landing Page Customization: Michelles In Style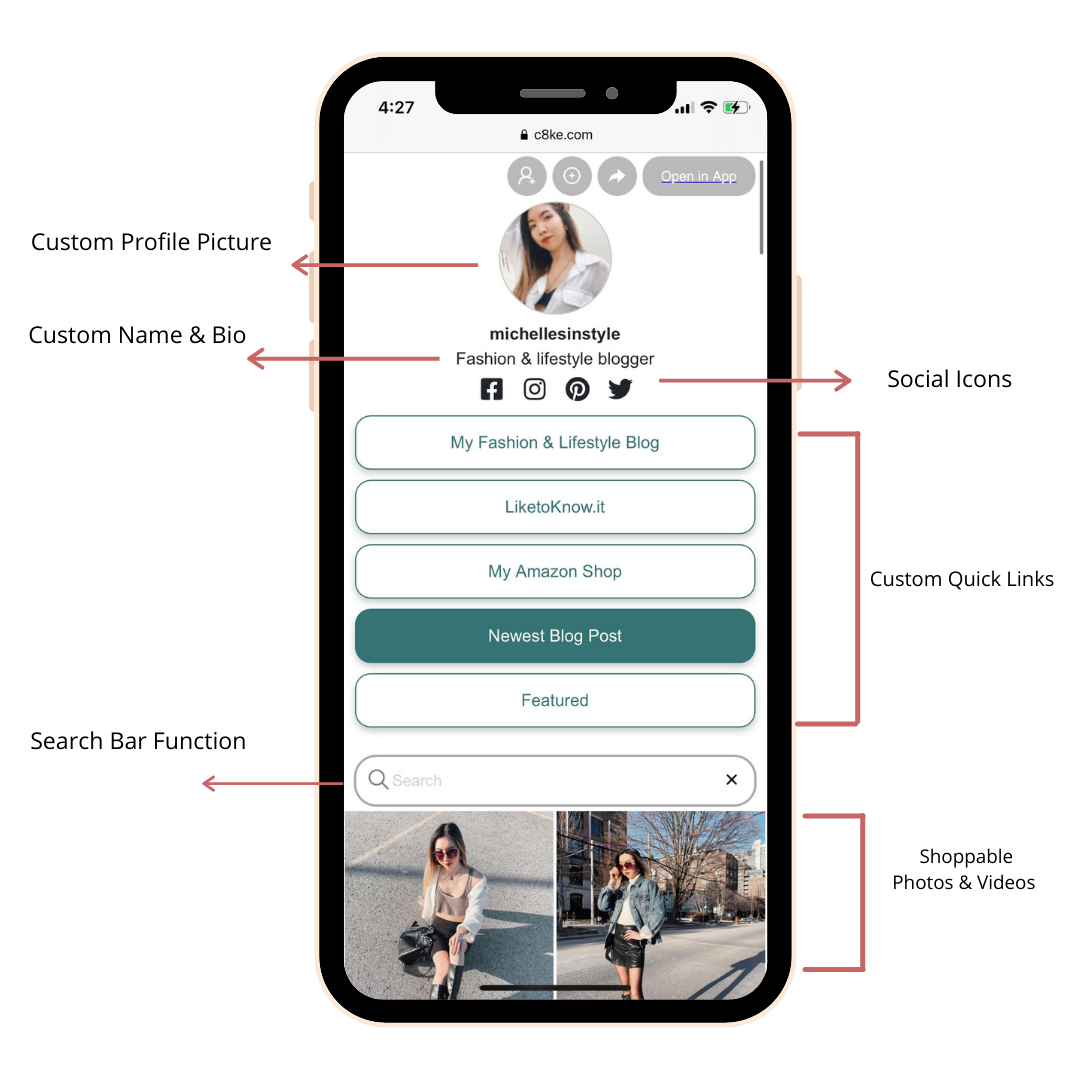 Step 6:  Optional: Add in your affiliate information
Click on the Me icon on the bottom toolbar and then click on Referral / Rewards: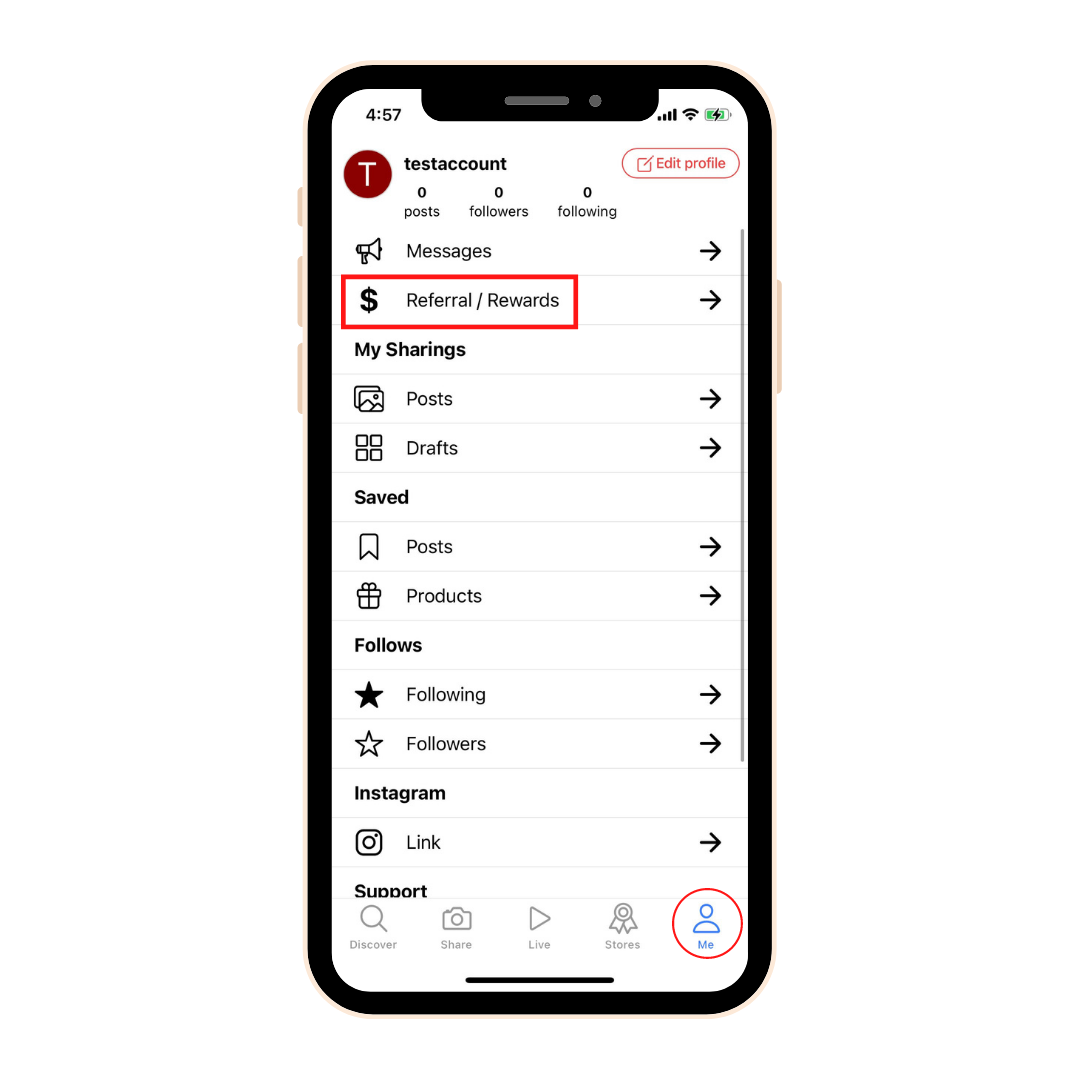 If you're part of the Skimlinks, Viglinks or the Amazon Associates referral program you can enter in your personal IDs here: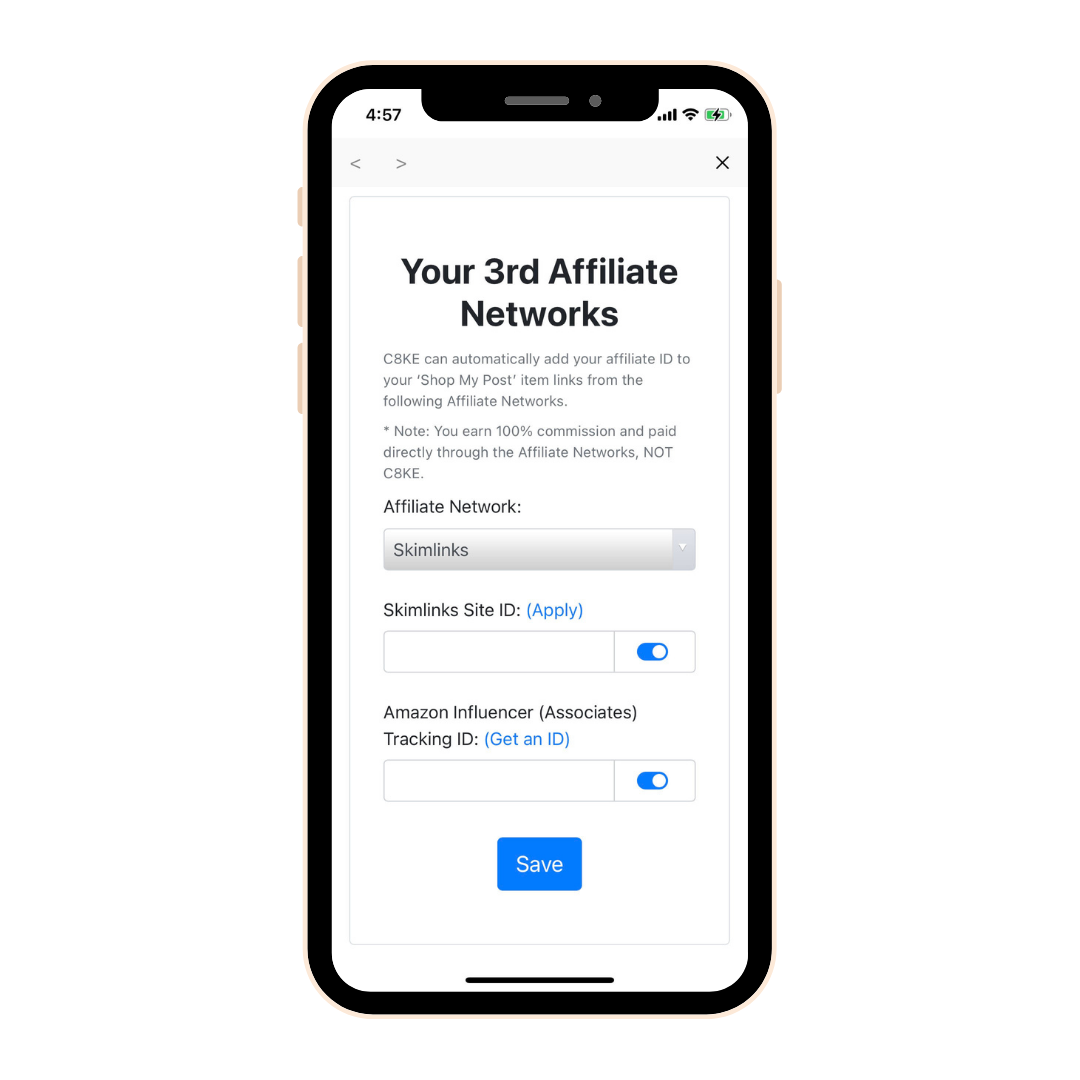 By adding in your affiliate network IDs, any links that are generated from those affiliate programs within the C8ke app, will automatically be attributed to your personal affiliate ID.  
C8ke does not take a percentage of any of your affiliate sales.  We are simply the bio link landing page that can link to your affiliate network.
This step is completely optional as you have the option to manually add in your affiliate links into each post (more on this in step 7).
Step 7: How to Upload A Shoppable Photo or Video
1) How to create a Shoppable Photo or Video from an Album
Start by selecting the Camera Icon on the bottom toolbar then click on Photos or click on Videos: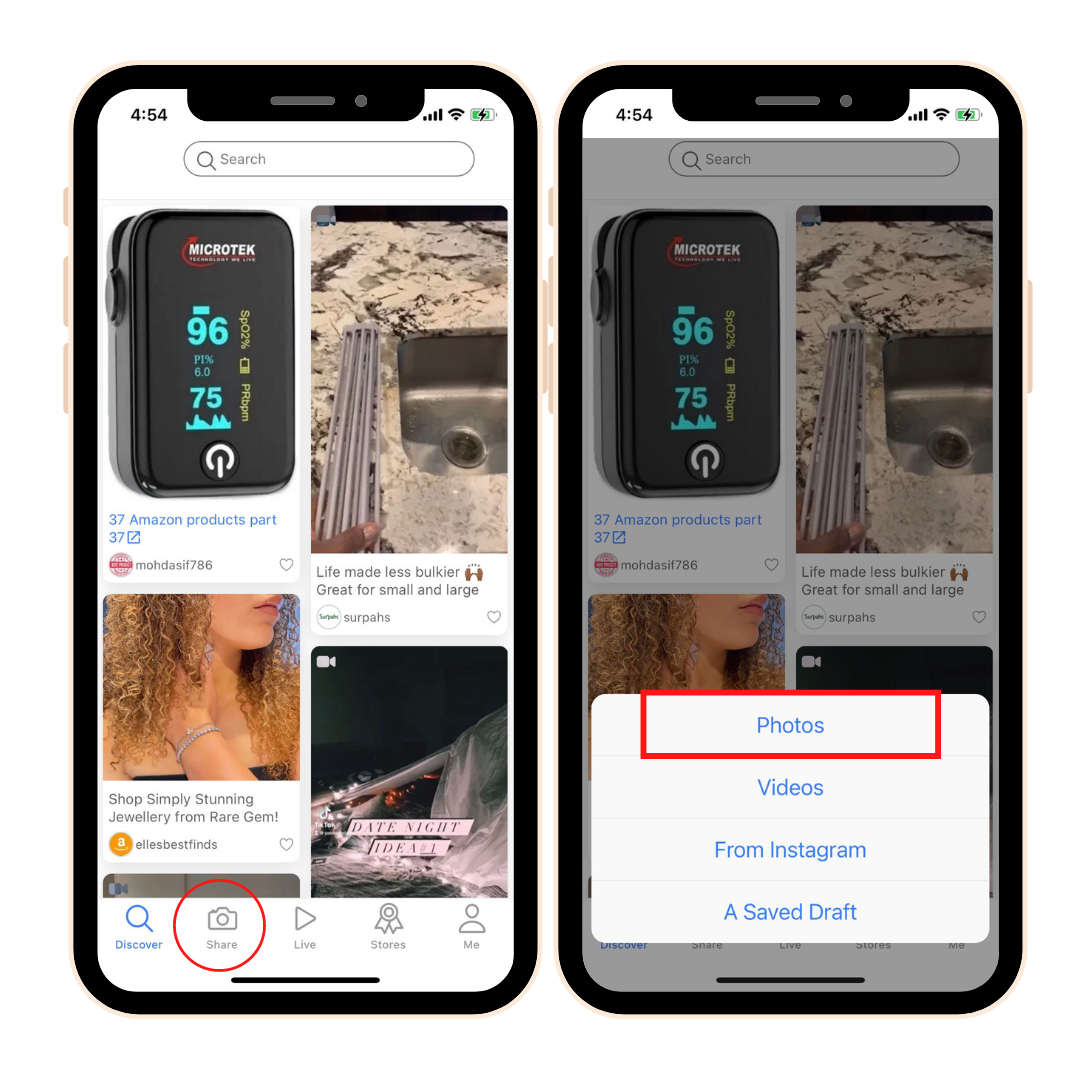 Click on the top + Square, then select between two options.  For this tutorial click on From Album:
*Note Under "Video", your only 2 options are to pull "From Album" or you can take a video in real time.  You cannot however, pull a video off a webpage.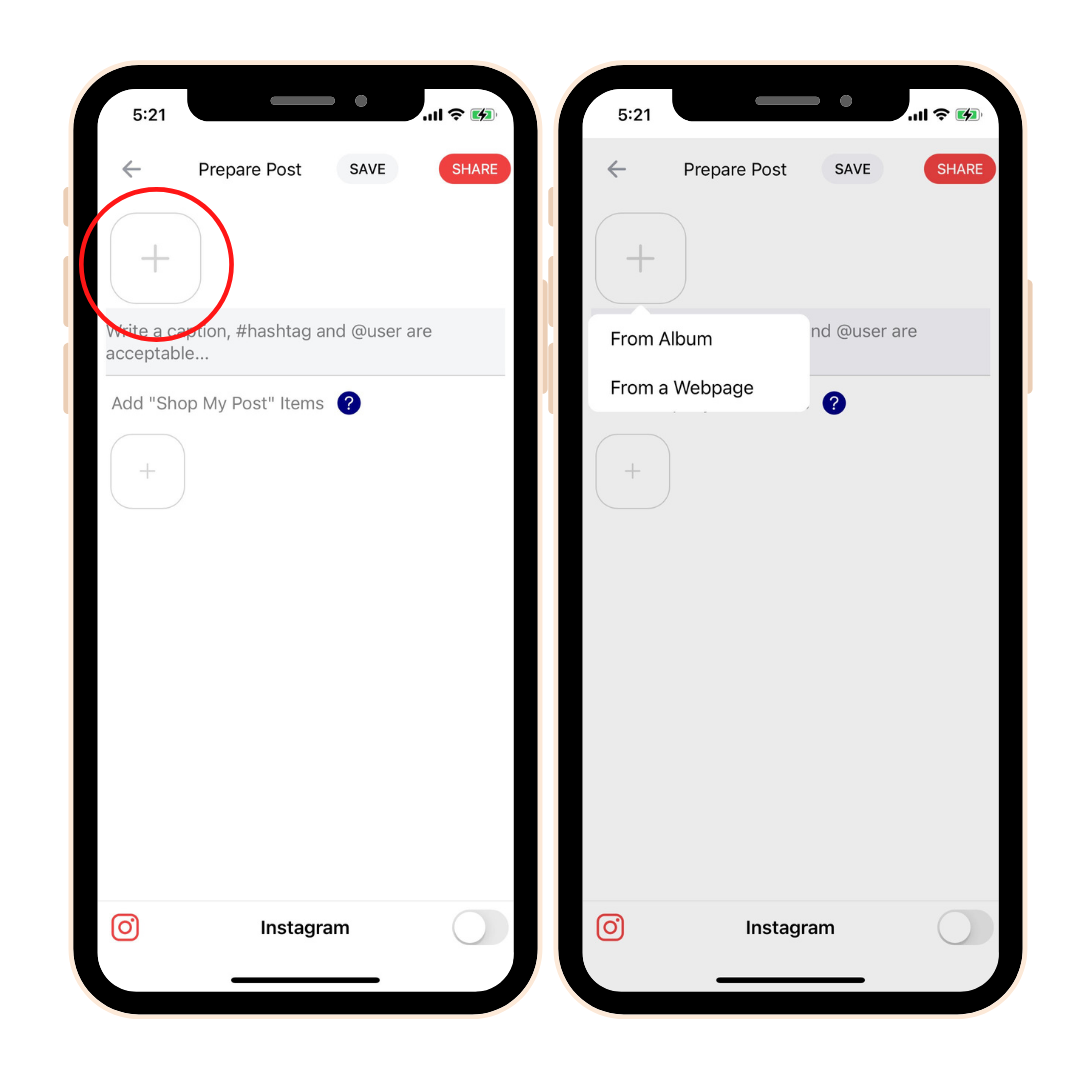 Select the picture or video you want, then add in a custom caption.  
Tip: Add in custom hashtags to your caption so your audience can find your posts faster using the search bar function on your C8ke landing page: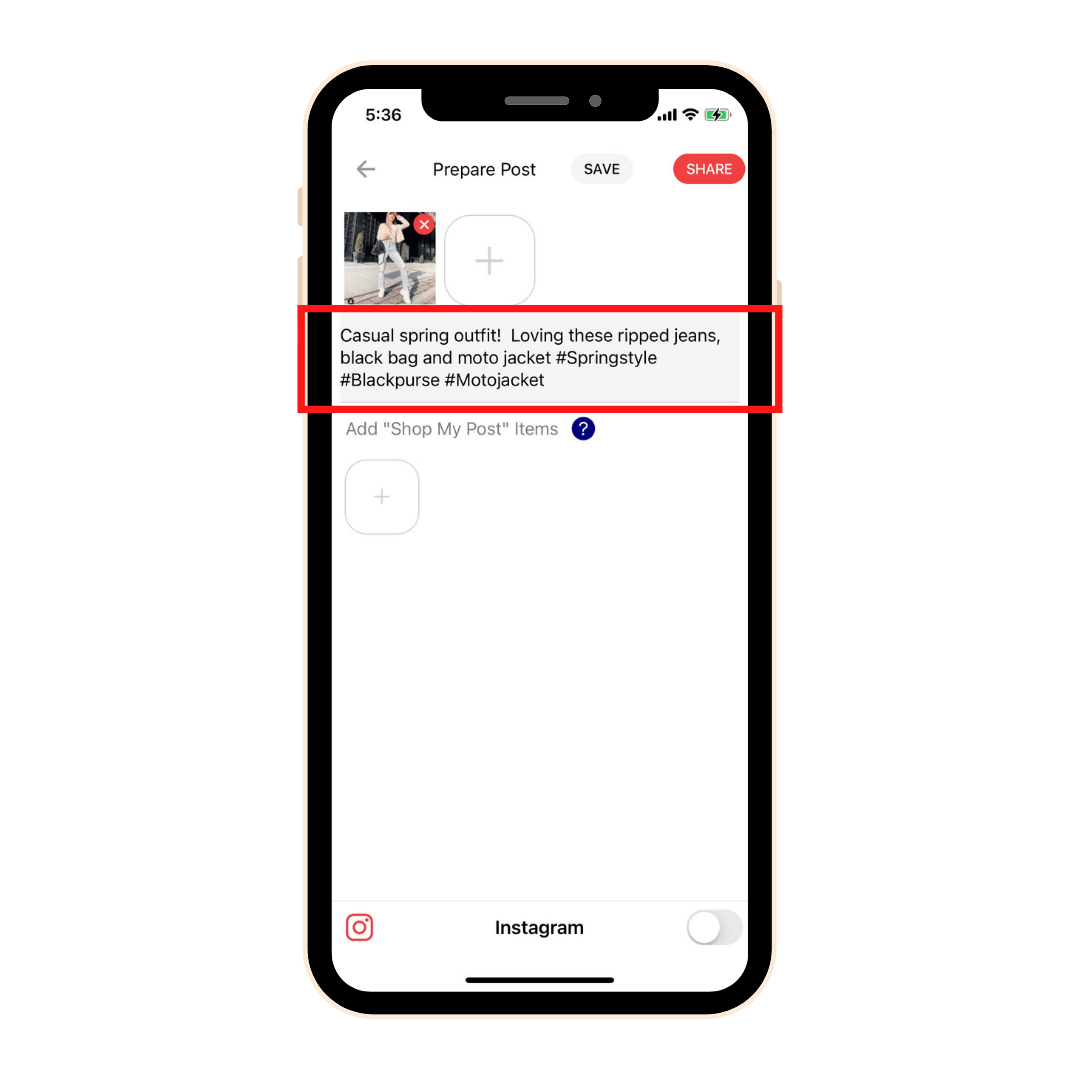 Link Options
A) Custom Affiliate Link
Under the "Shop my Post" Items, Click on the + square.  Then click on Add From a Website.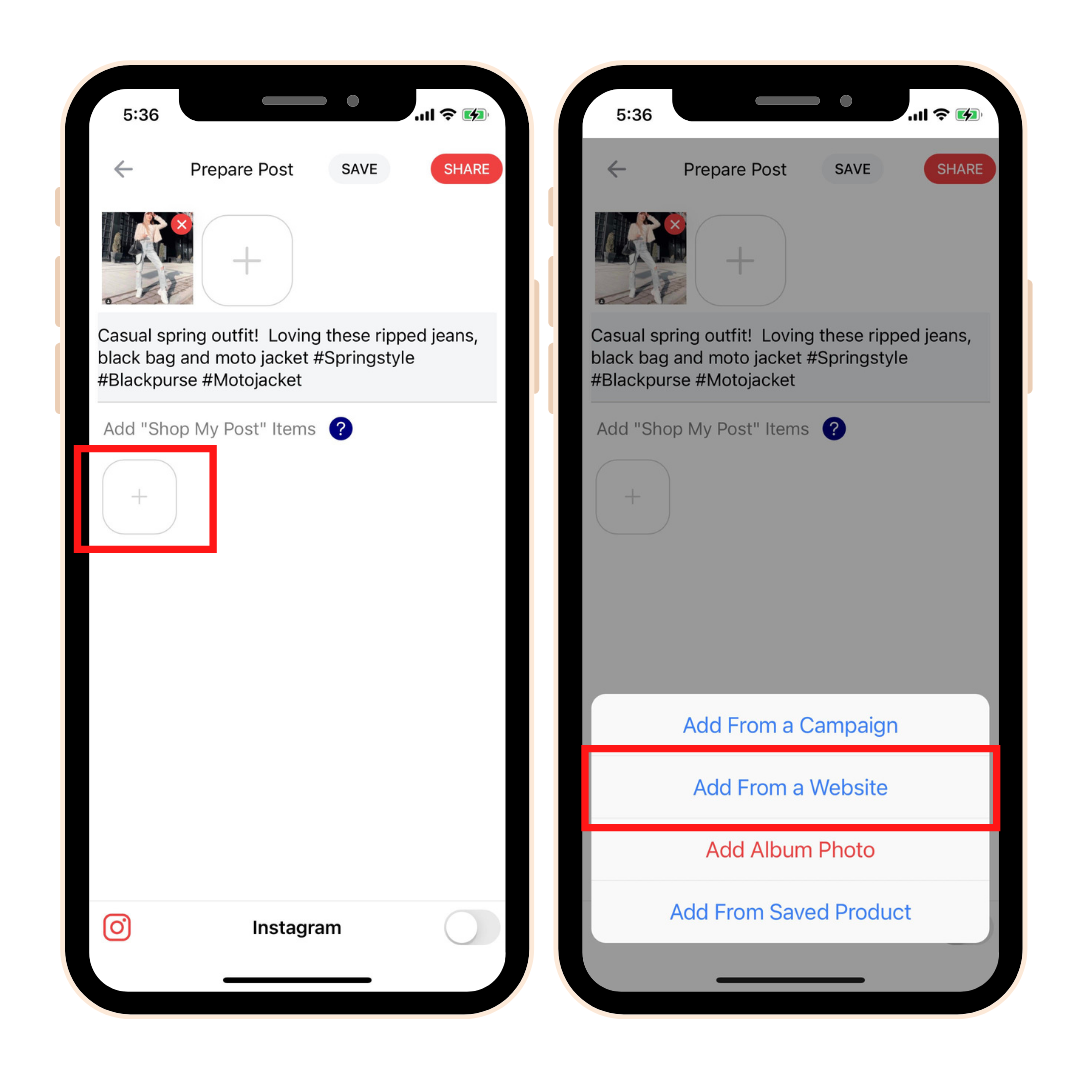 This will pull up a list of websites.  You can either click from a webpage in the list or type in a custom URL into the search bar and click go: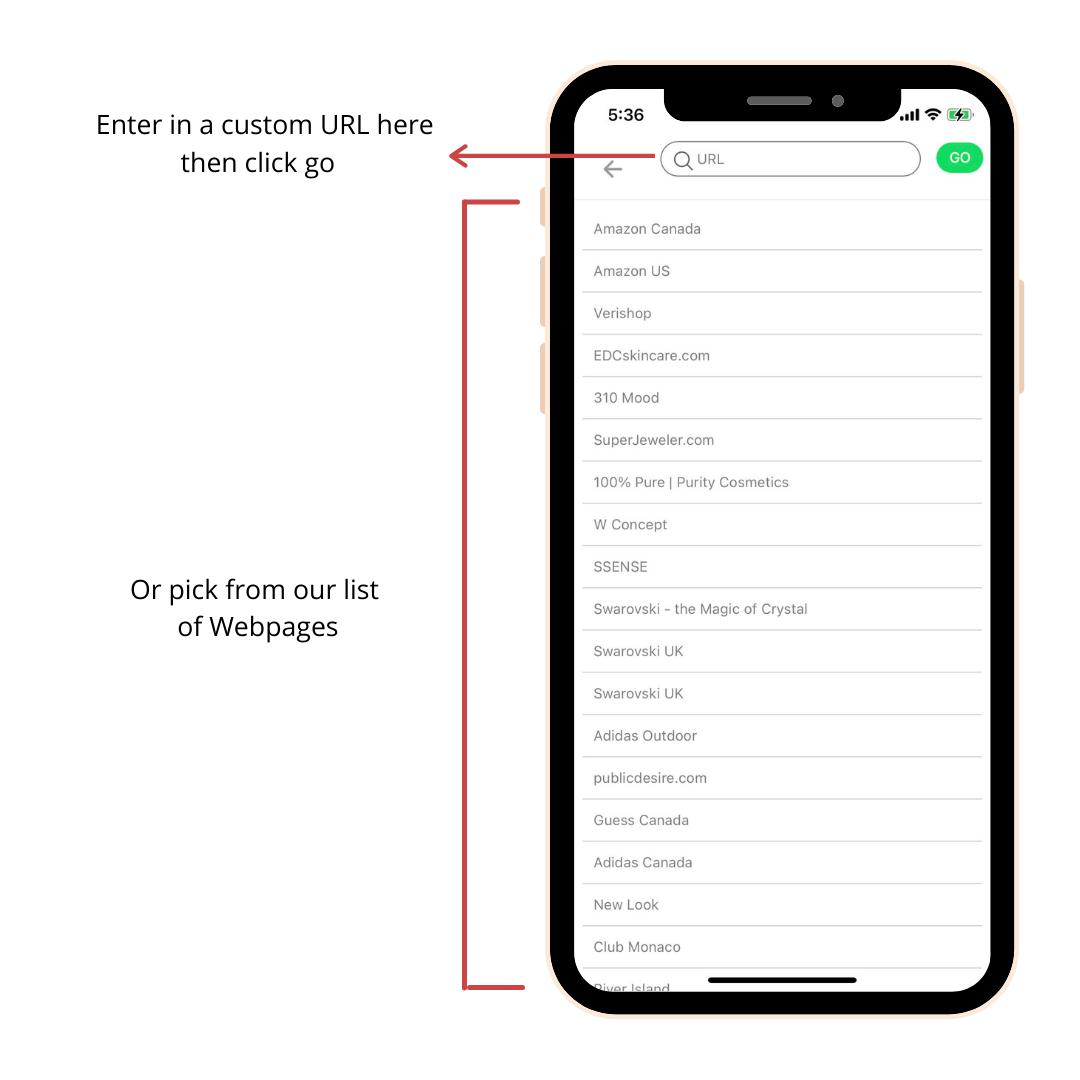 For this example, we'll use Amazon US.  When you pull up your desired webpage, find the specific product you would like to link to, and then click on "Next".  Select the image you would like to link and click okay.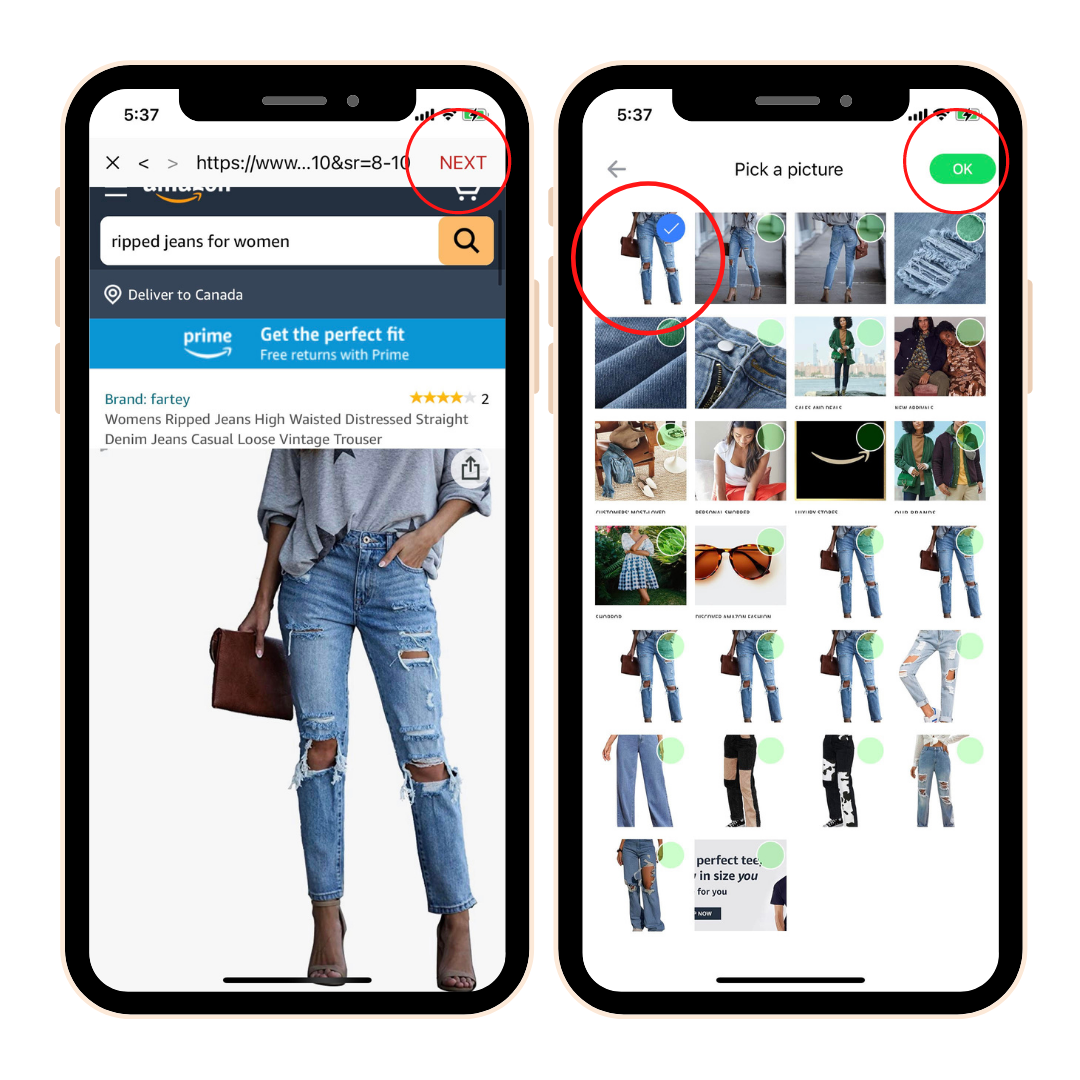 This will add the shoppable image to your post.  It will auto populate a blue link.  If you completed step 6 and set up your affiliate networks like Amazon, the link here would be directly tied to your Amazon Affiliate ID.  If you did not, you can edit the link and paste your own custom affiliate link.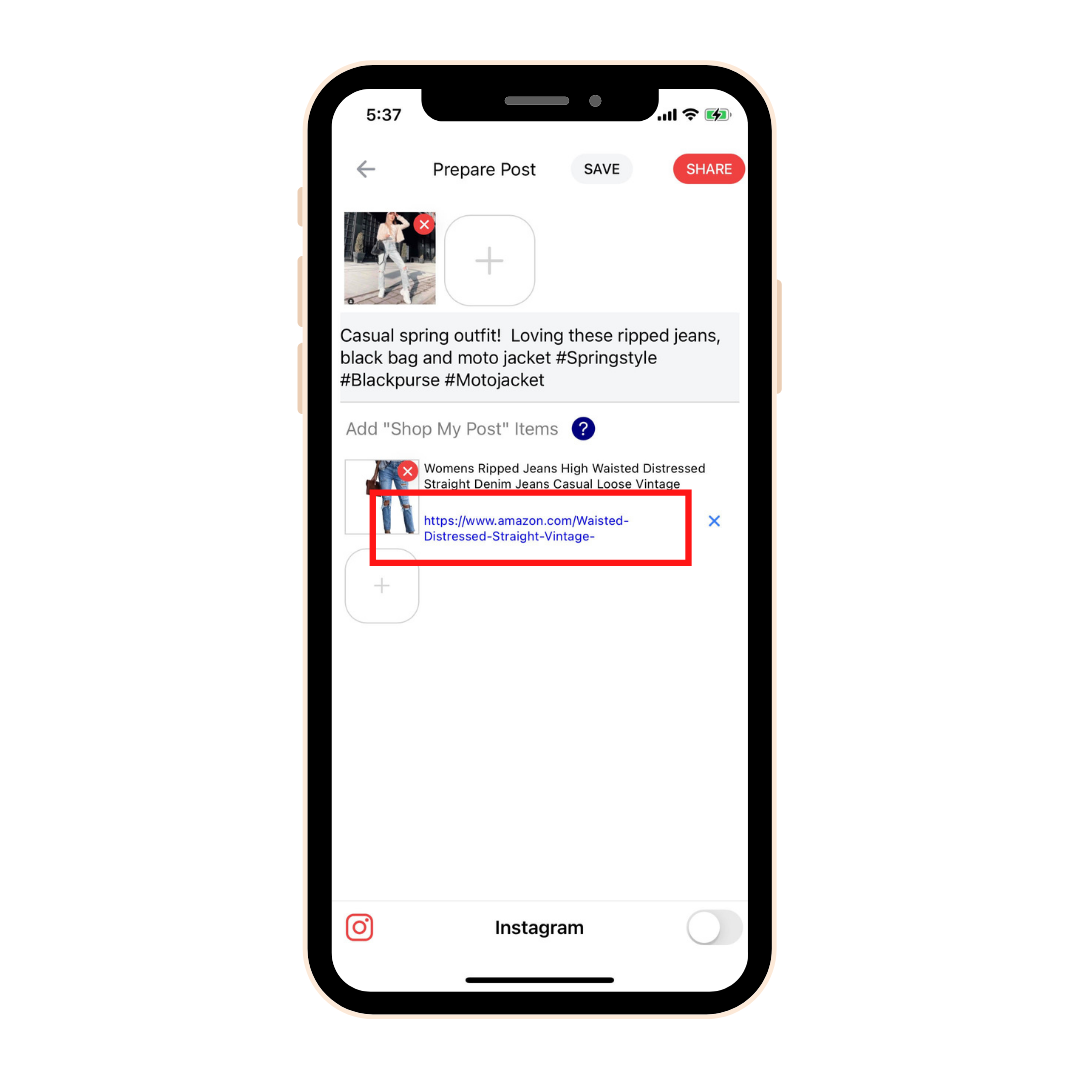 To remove the pre-populated link, click on the blue X then paste your custom link.
Click the red Share button when you're ready for your post to go live.
b) Link to a custom URL
You are also able to link to a custom URL to redirect your audience.  Just add the custom URL into your caption and it will automatically become an external link.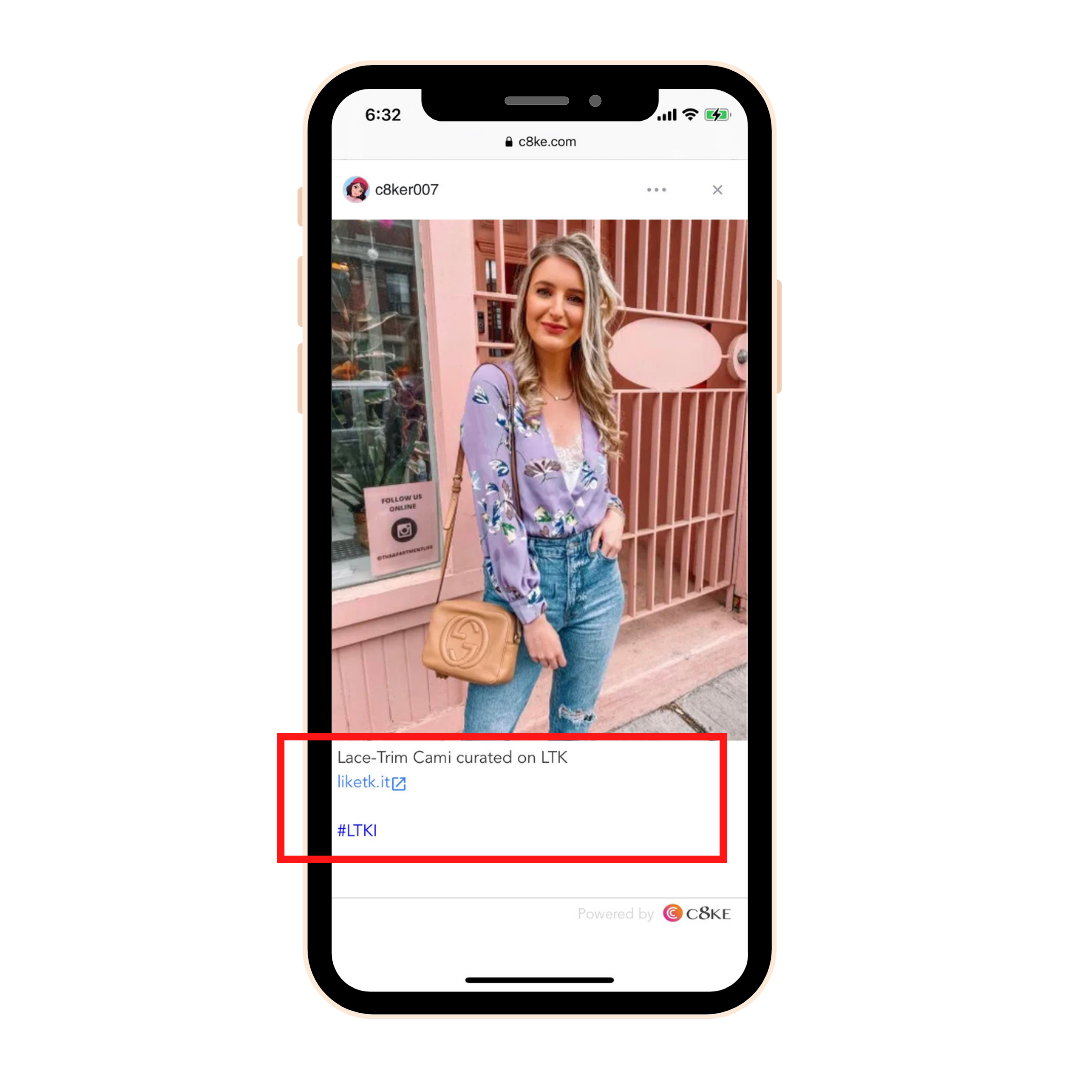 Tip: This function is great when paired with the search bar.  Your audience can search for specific products, find the related post and then get redirected to the correct external link.
2) How to create a shoppable photo from a webpage
If you don't have a product photo on your camera role, C8ke allows you to pull one from a website of your choice.  First, select "From a Webpage":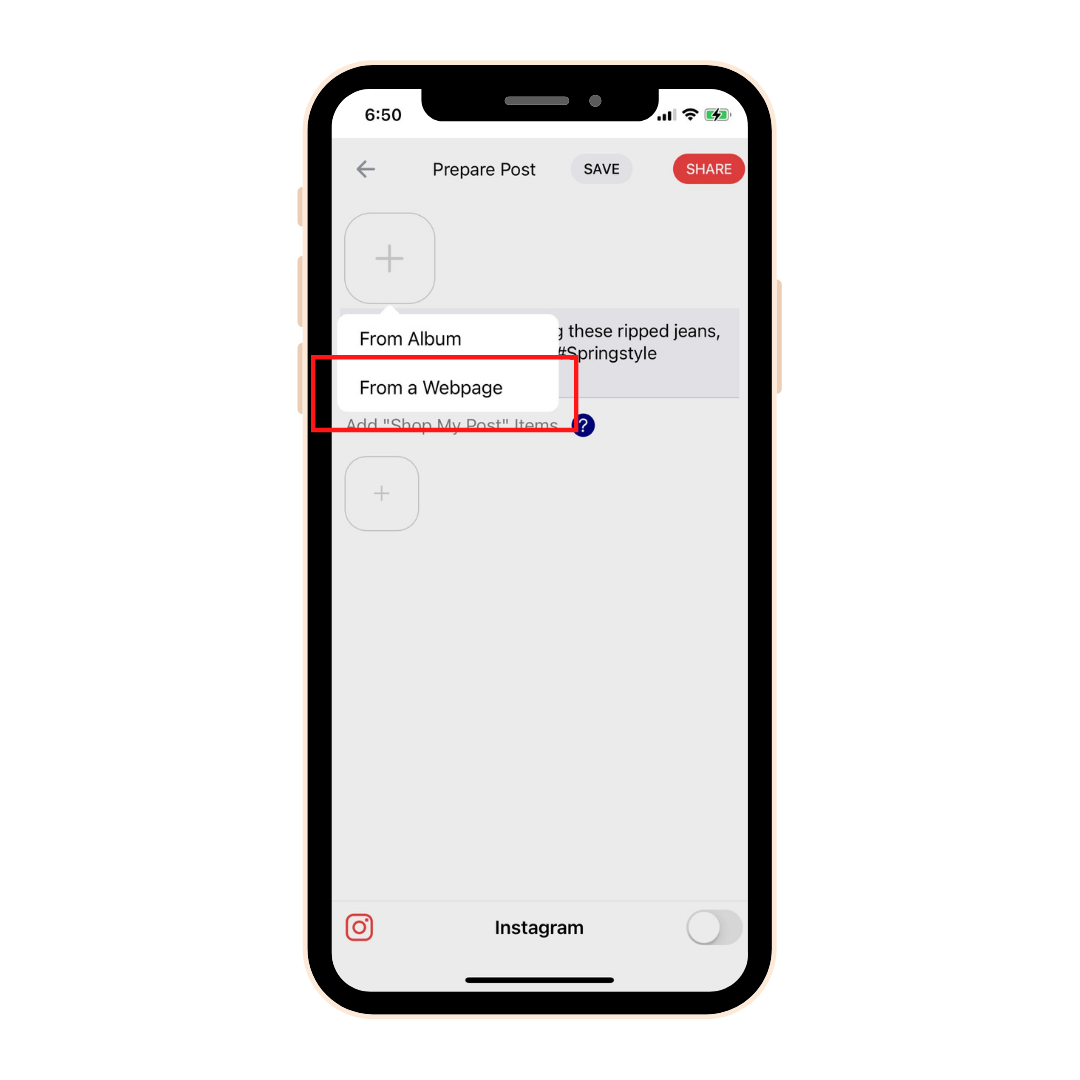 *Note you are not able to do this with video
Next either type in a custom URL of your choice or choose from our list of URLS.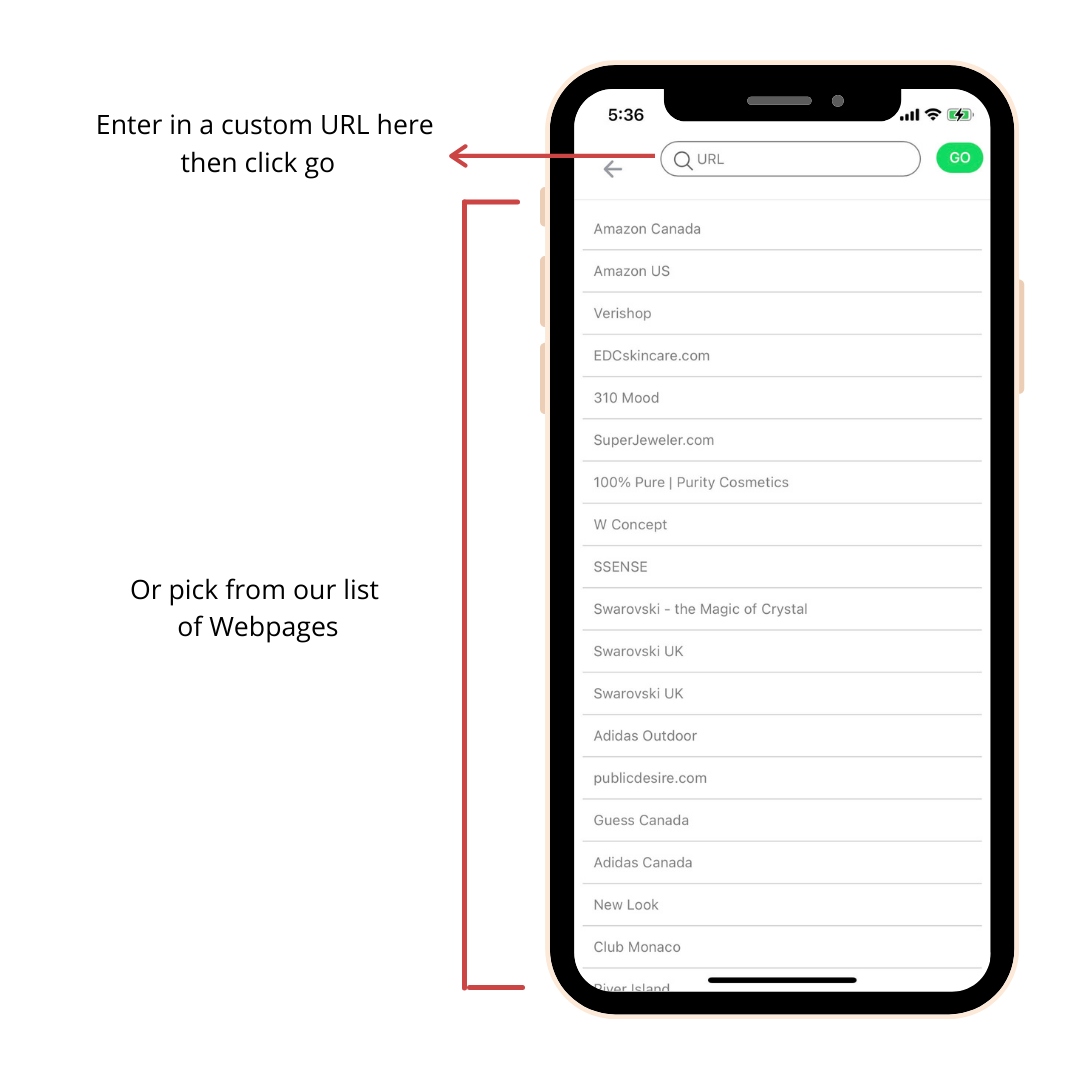 For this example we'll use Amazon USA.  Find the webpage featuring the product you would like to share and click on next.  Next, select your desired image and click OK.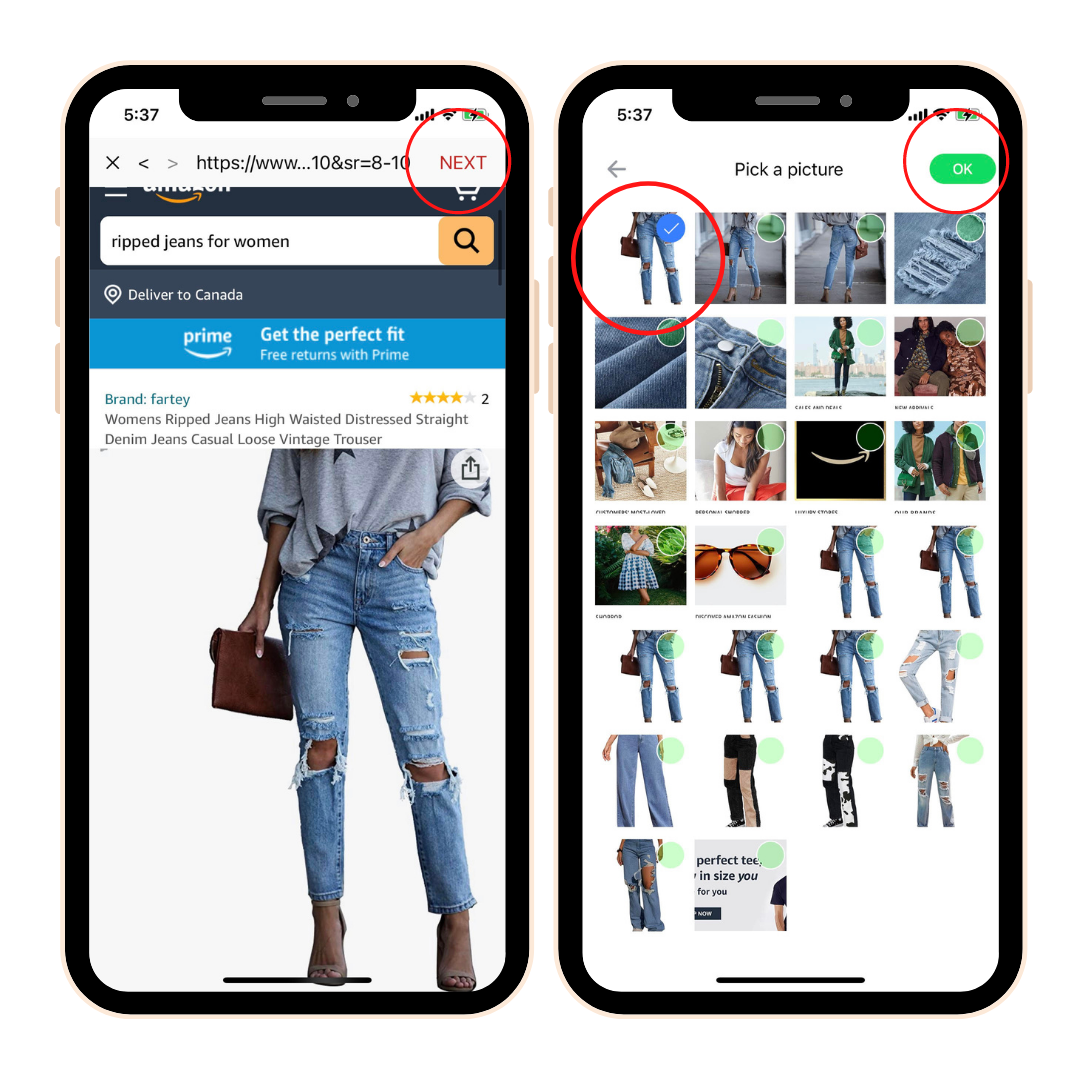 As you can see, the image we selected is now the image that will be posted when you click share.
The caption is pre-populated with a description of the image and the URL you pulled it from.  To update the caption to contain a custom affiliate link, click on the URL within the [ ] and then click on the blue link button.  Here you can edit the link and even put a title on it like " Shop the Item here":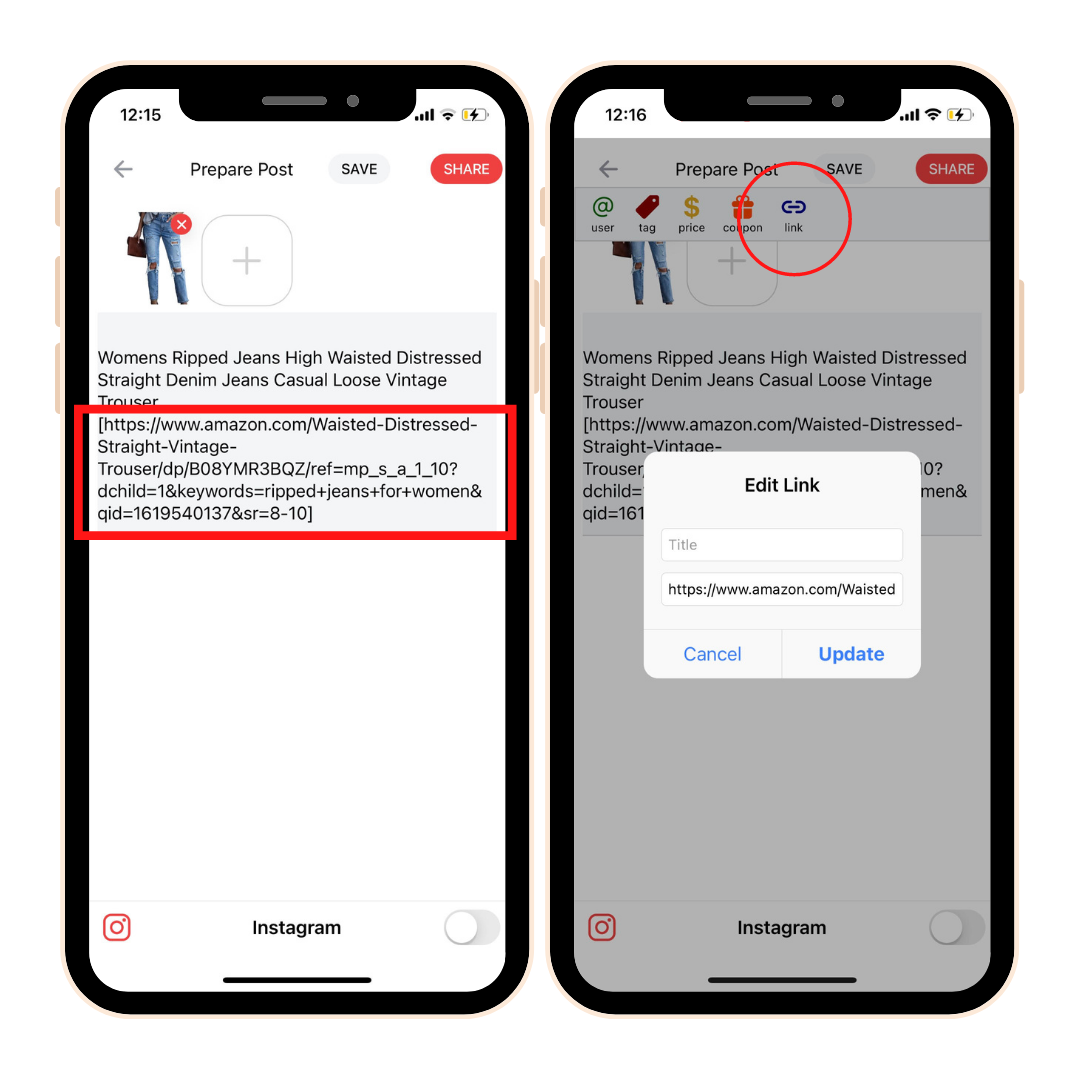 As a reminder, this is the same process you would use if you wanted to add a product link to one of your C8ke photos and/or videos.  See Step 7 link options for more information.
Step 8: Import Your Instagram Images and Videos into C8ke
Import your photos and videos directly from Instagram into C8ke.  Any URL code within an Instagram caption automatically becomes a clickable link within your C8ke Landing Page.  
You can also adjust your caption within C8ke to include links or shoppable products!
First click on Me in the bottom toolbar then click on Instagram Link.  Follow the prompts to link your instagram.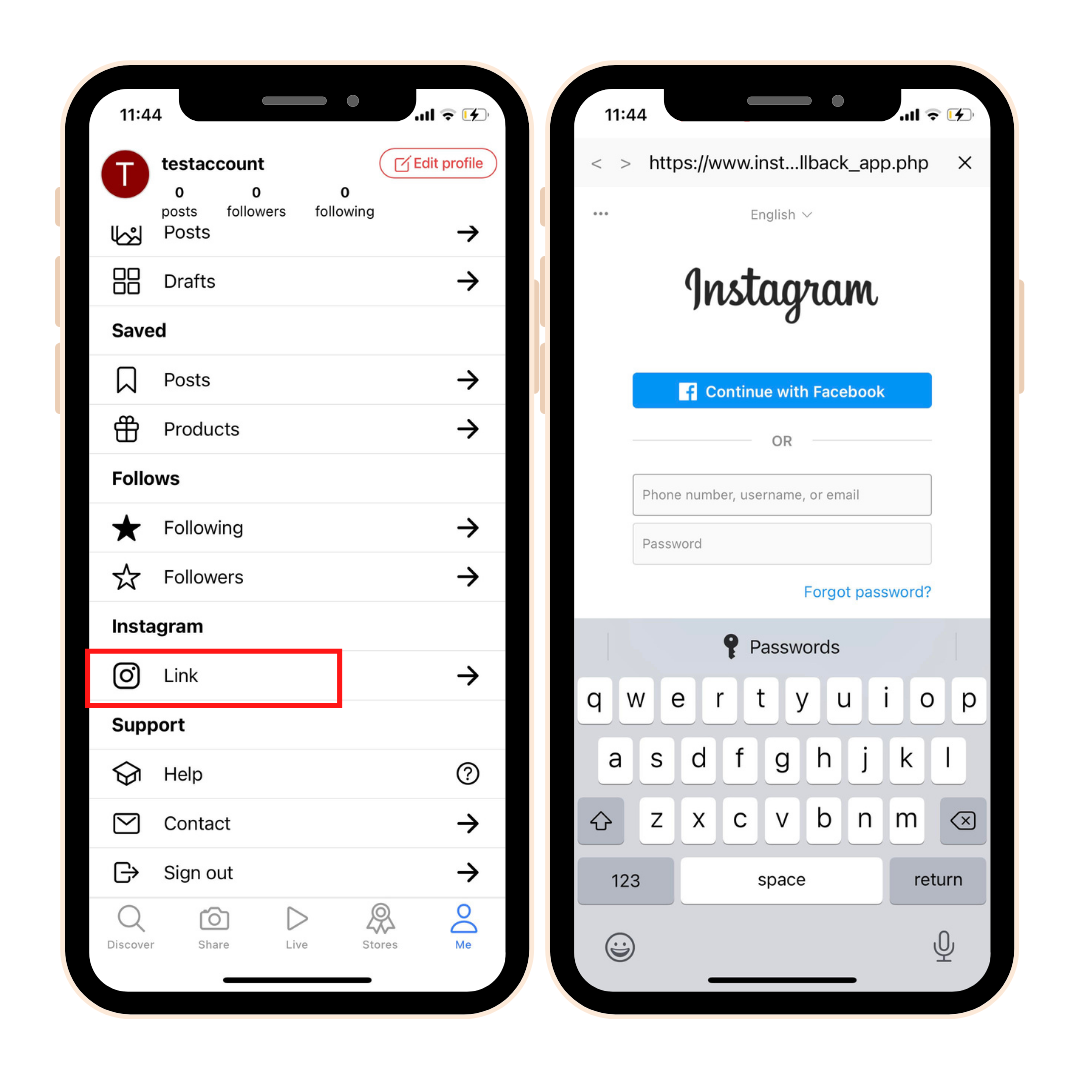 Next click on the Camera button in the bottom toolbar and click on From Instagram: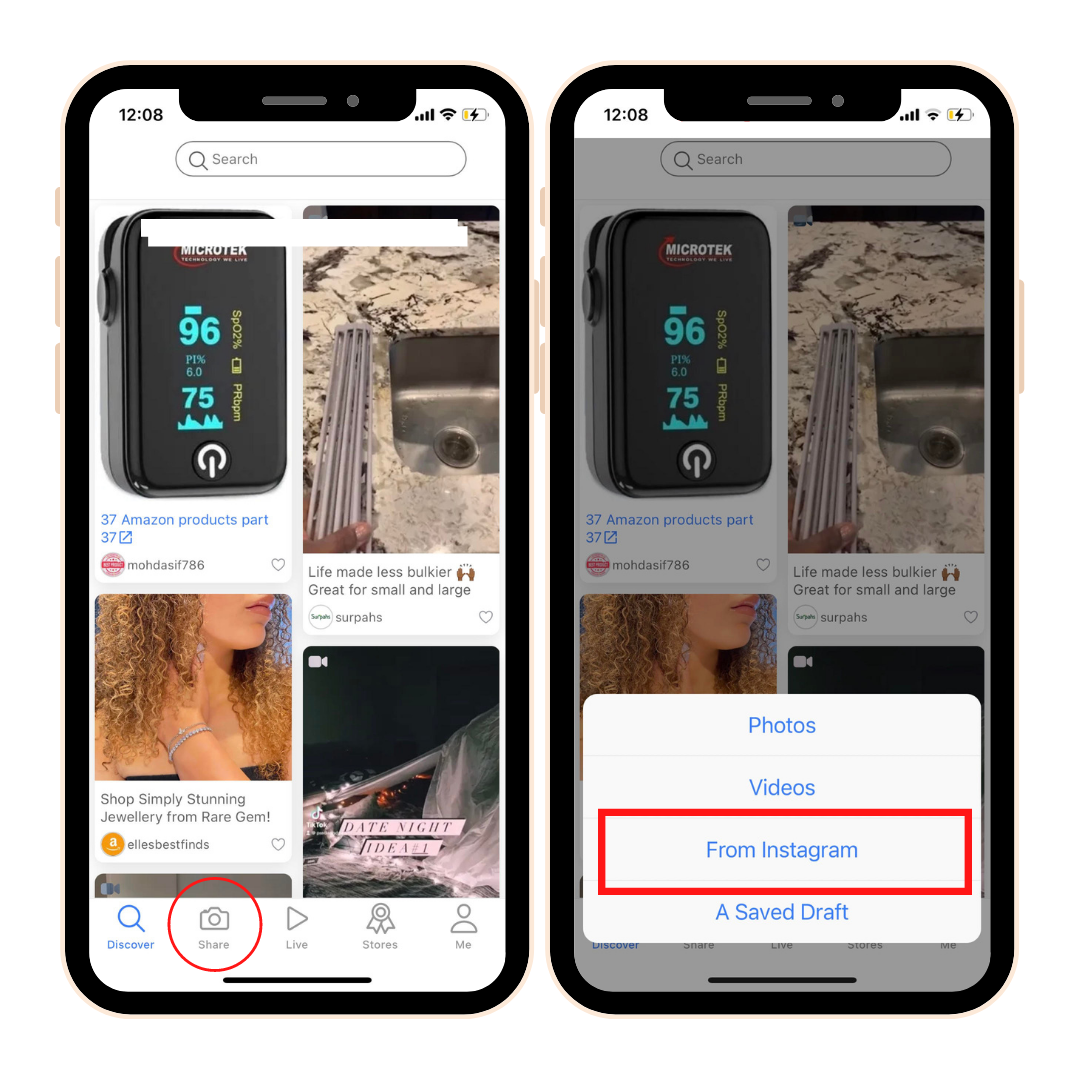 All of your instagram pictures will appear, at which point you can pick the photo or video you would like to post to c8ke.  
C8ke will import your picture and instagram caption, which you can edit.  Click on Share to post to your landing page.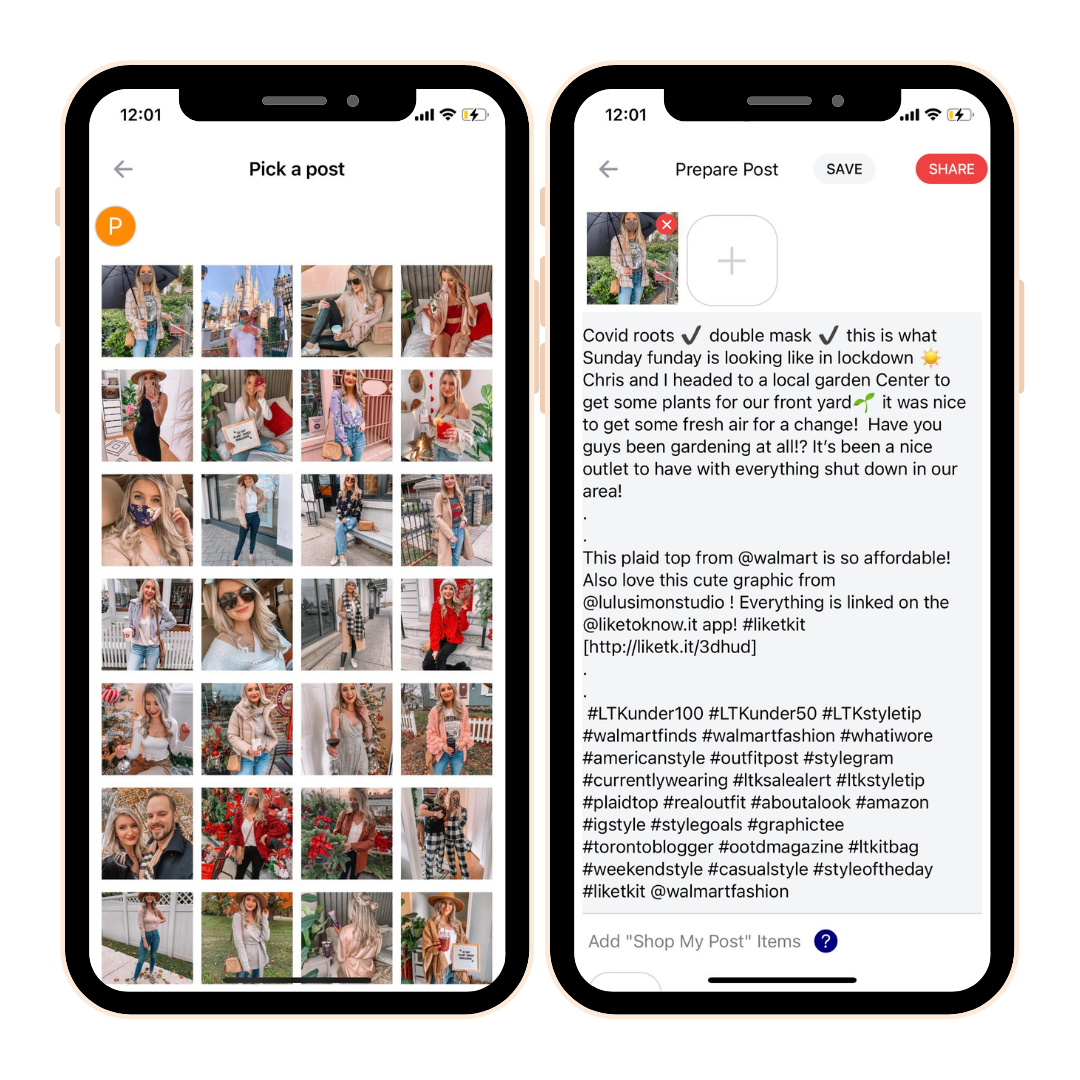 Additional Features
If you're looking for more awesome features that the C8ke app provides, head to "More bio page settings" then click on the three small lines at the top: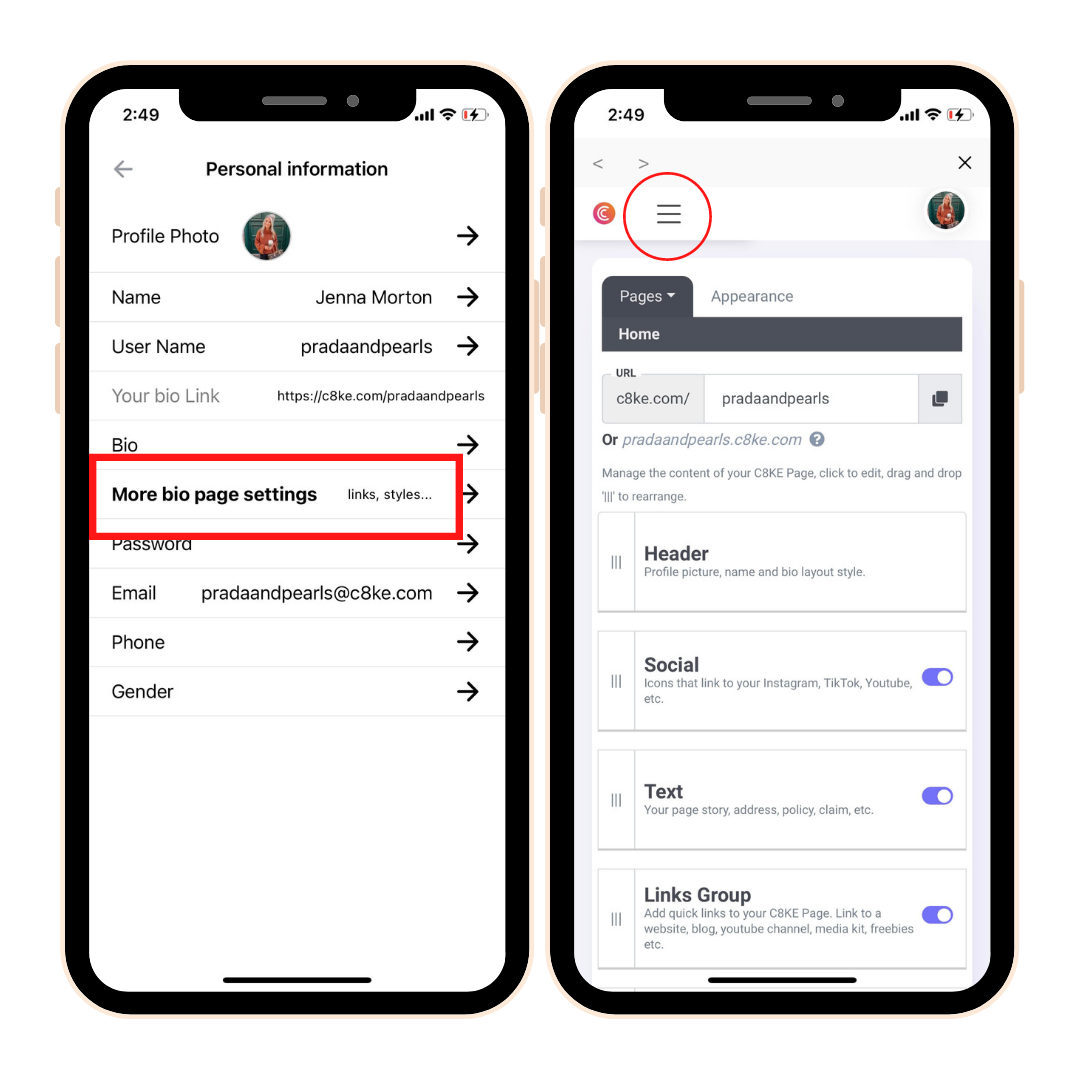 Here you will find the following Features: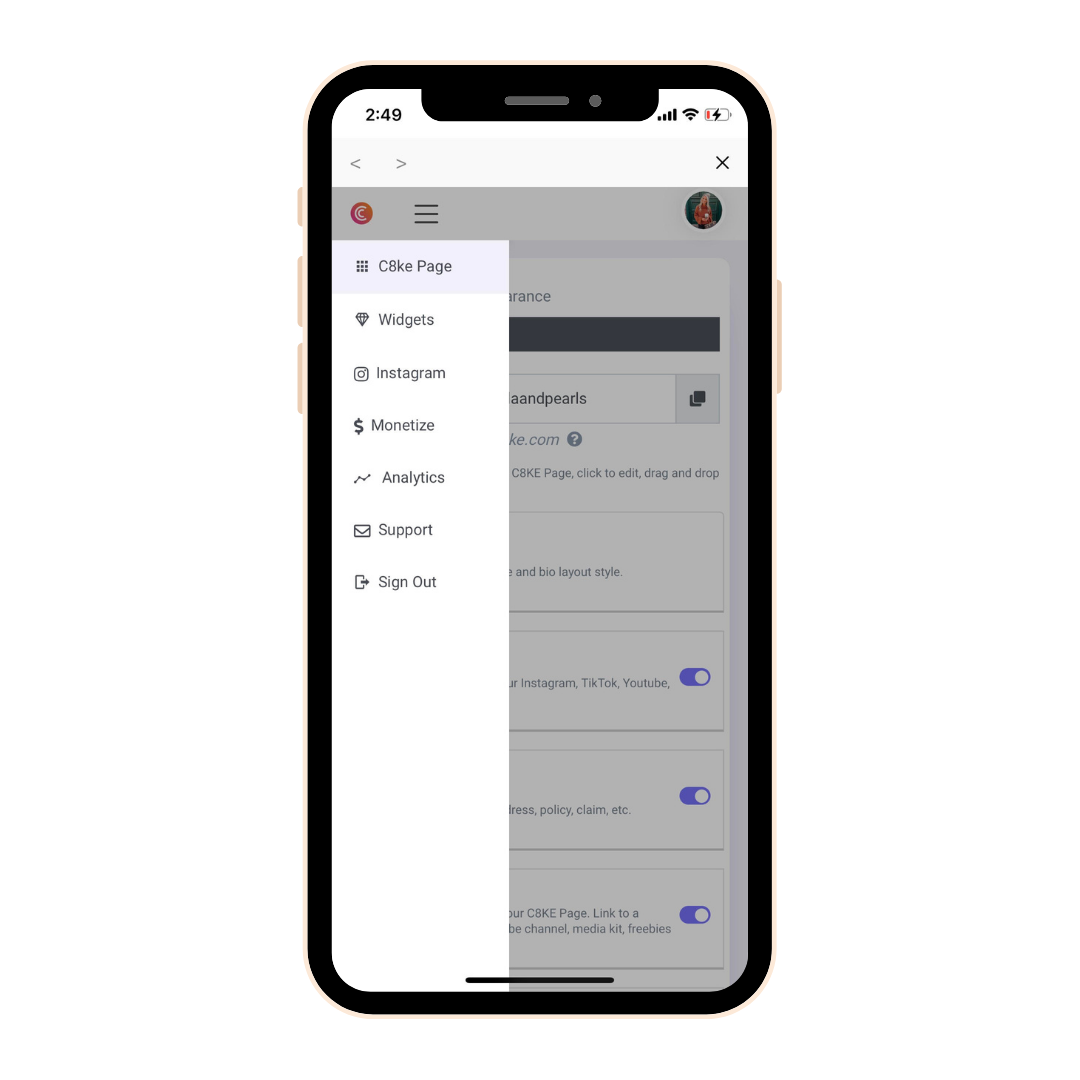 1) Analytics
This area is still in Beta mode, however you can currently view how many people are clicking on your C8ke landing page daily.
2) Instagram
Use our bulk Instagram importer to import multiple instagram images at once onto your C8ke page.  You can use the bulk function as long as the Instagram caption contains a custom url.  This will then become a clickable link within the C8ke app.  
3) Website Widget
Embed your shoppable gallery onto any webpage or blog using our widget function.
4) Chrome Extension
Create shoppable photos and videos on your desktop using our free chrome extension.
5) Monetize
Another place to add in your affiliate program IDs.  See step 6 above.
If you have more questions related to the C8ke app, please reach out to us at support@c8ke.com