How To Set Up Instagram Shopping: A Complete Guide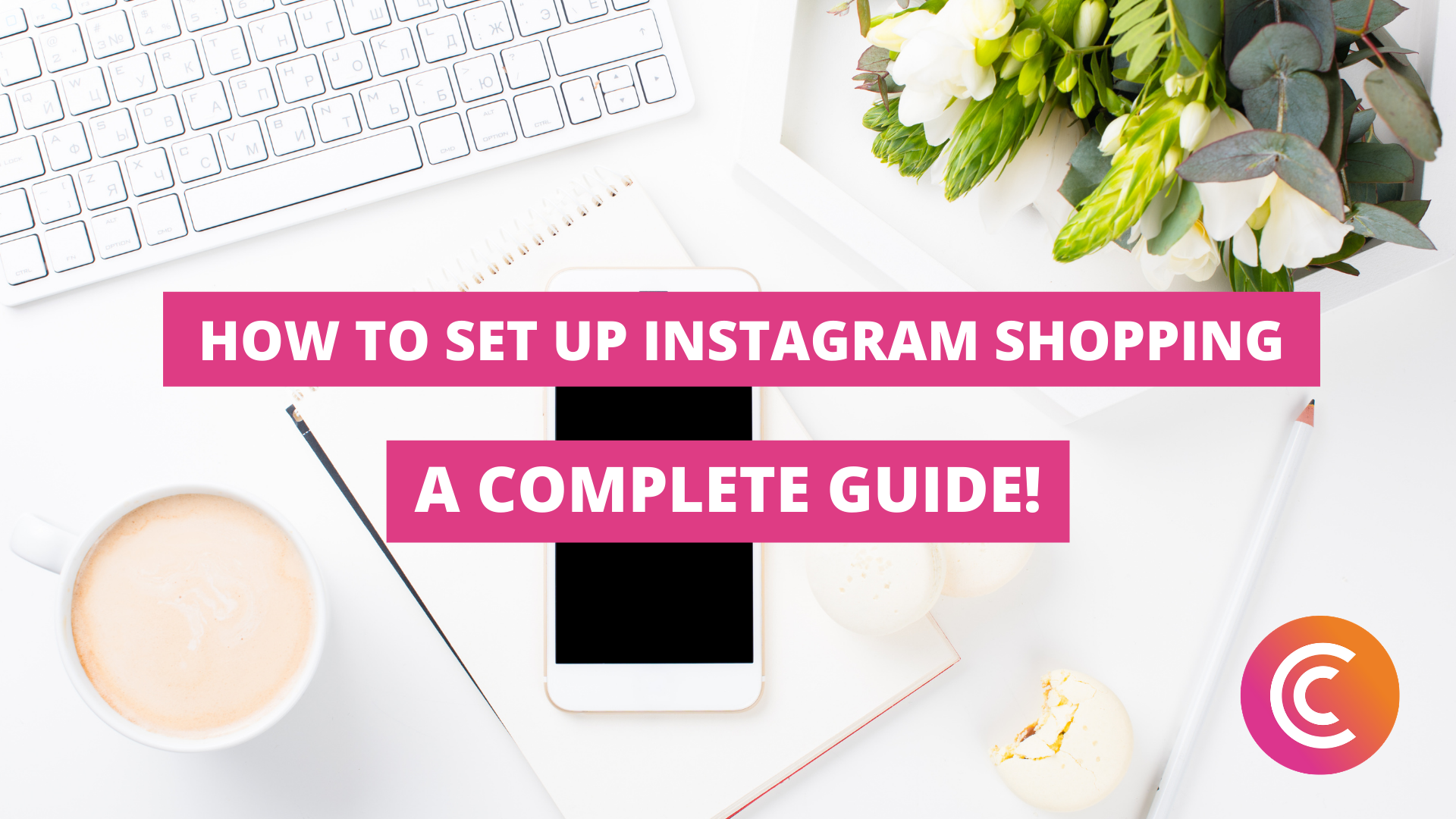 Online shopping has increased significantly over the last few years.  In 2020 alone, over 2 billion people bought goods and services online.  Consumer buying behaviour has also been changing rapidly due to advances in technology.
As social media and mobile phones have become more of a daily feature in most peoples live's, they have impacted how, when and where we shop.  
Instagram is ranked the fifth largest social media network in the world.  According to Retail Touchpoints, Instagram is one of the most influential social media platforms for shopping.  Over 70 percent of people said they make purchase decisions based on what they see on Instagram.  Eighty-seven percent admit that Influencers on the platform convinced them to make a purchase.      
With the creation of Instagram Shopping, it has become even easier to sell and buy right on the platform.  Instead of redirecting users to a website, consumers can click and buy within a post.  Which they do.  In fact, 130 million users tap on shopping posts each and every month according to Instagram.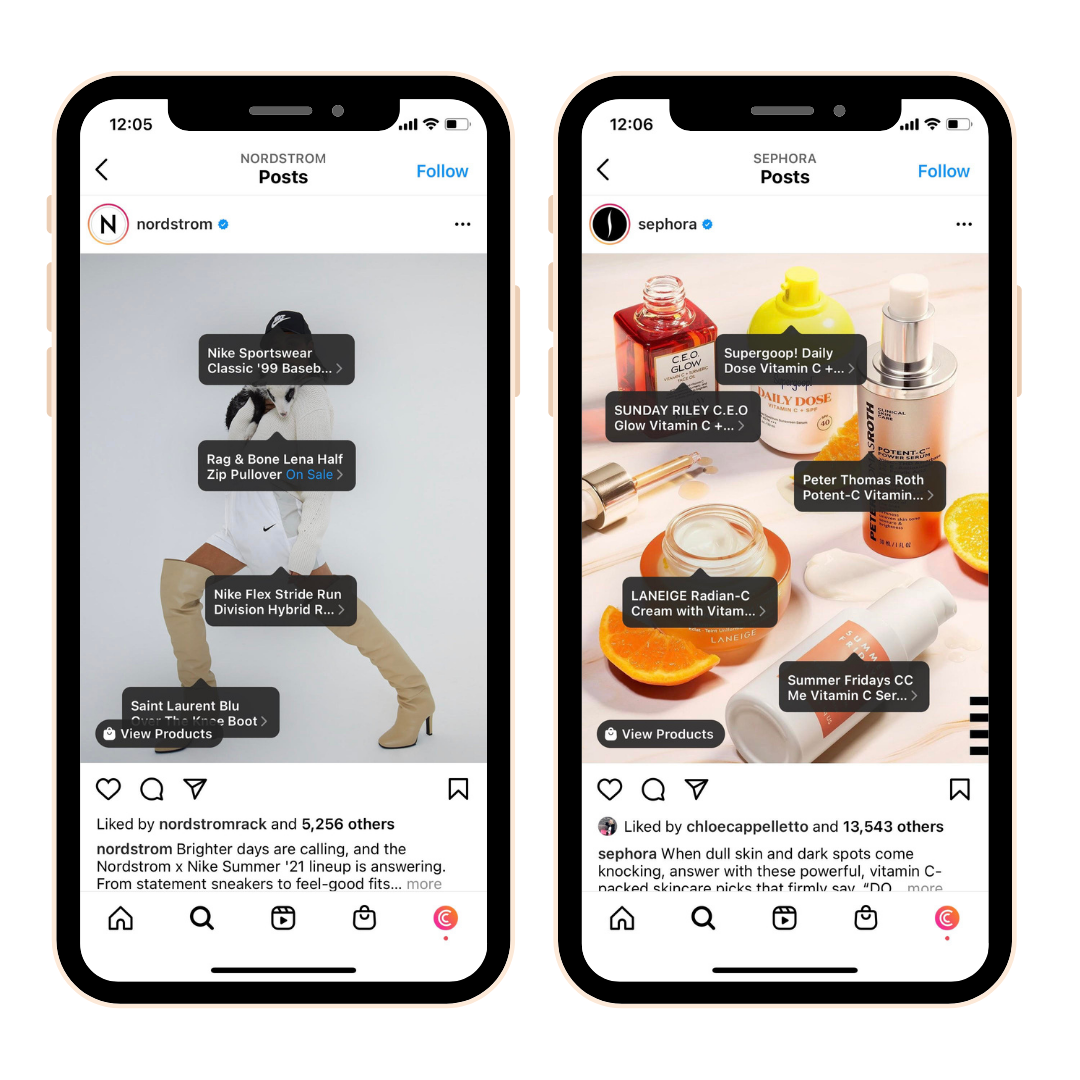 Large and small brands like Sephora and Nordstrom currently use Instagram Shops to sell their products.
If you're considering setting up a virtual storefront, now is the time.  Let us guide you through the process.  We'll teach you:
What you need to know about Instagram Shopping
How to setup Instagram Shopping
Ways to boost your Instagram Shopping posts
And more!
What you need to know about Instagram Shopping
Instagram shopping is a feature offered by the platform that adds product tags to your posts.  Users can click through, check out and buy whatever they want, when they want without leaving the app.  
Here are some terms you should become familiar with before you start:
Instagram Shop: This is the Instagram Storefront for your brand
Product Details Page: Users can find key product information on this page
Collections: How brands group together like products for a more streamlined shopping experience
Shopping Tags: Allows users to click through to product pages to make a purchase
Shop Discovery Tab: Users can window shop and look through different offerings from different brands  
How to Setup Instagram Shopping
There are a few steps involved to setting up your Instagram Shopping account.  However, once complete, you're ready to start selling!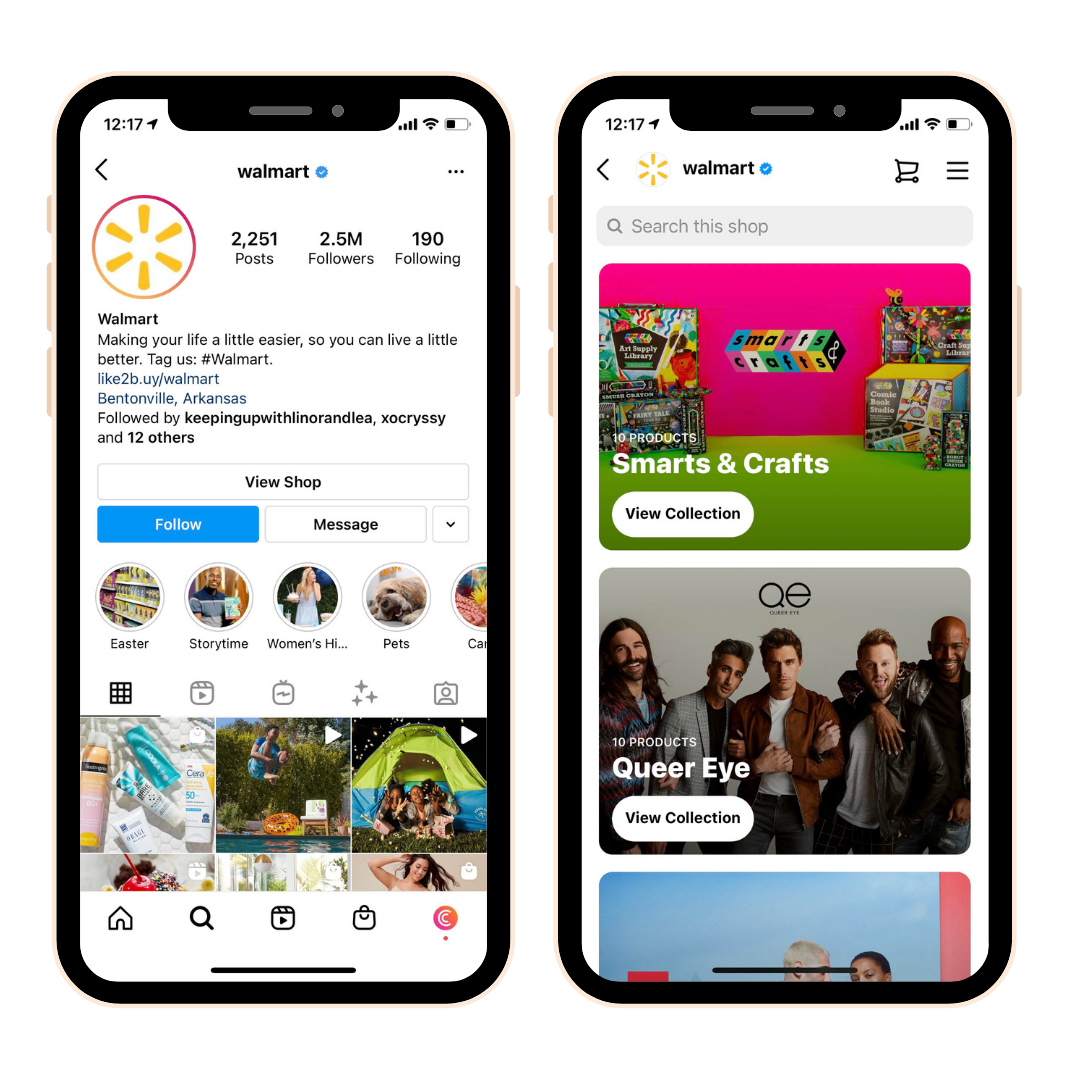 Like Walmart, once setup, you will have a "View Shop" button on your profile and your own shop that your audience can browse through.
Step 1: Determine your eligibility
Your business needs to be located in one of the approved markets to get an Instagram Shopping account.  You'll also need to follow Instagram's commerce policies and have a business account on the platform.  To learn more about eligibility read Facbooks post here.
Step 2: Set up an Instagram Business Account
To set up an Instagram Business account you need to have an active business page on Facebook.  You then need to connect that page to your Instagram Account.  You'll be prompted to add some contact details so customers can get in touch with you.  When you hit the done button, you're good to go!
Step 3: Upload Your Product Catalogue
Next you'll need to connect your Instagram account to a product catalogue.   There are two ways you can do this:
Step 4: Submit Your Account For Review
To submit your account for review go to your Instagram profile page and select "Add Shop".  The app will guide you through the submission process.  To find out your status, you can view under "settings" then look for "shopping."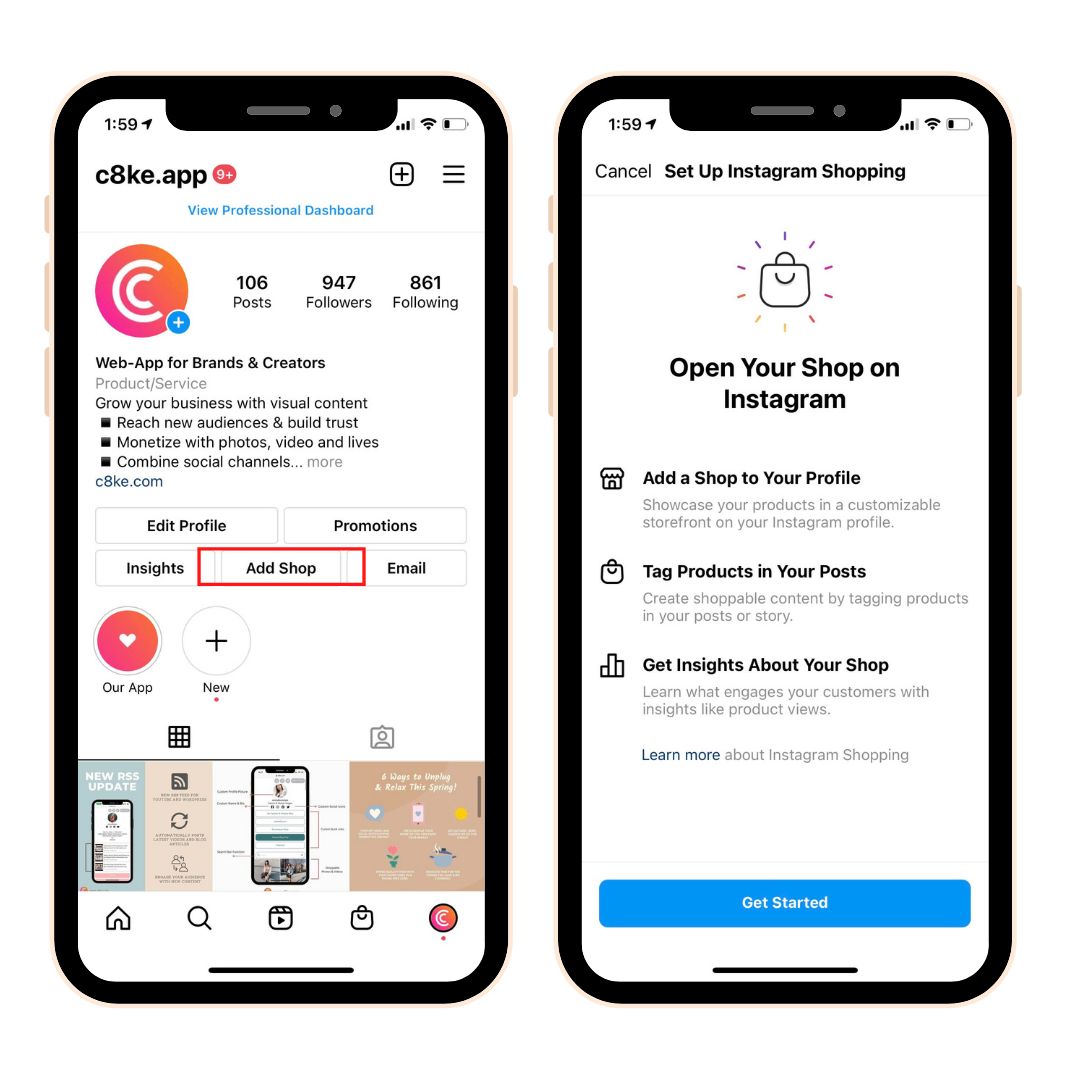 Step 5: Approval
After you've been approved, you'll need to turn on the Shopping features from your account settings.  Don't forget to select the product catalogue you want to connect to from your account.
Tagging Products in Your Instagram Feed & Stories
Once you've created your Instagram Shopping Account, adding posts is simple.  To add a new post with a product tag, upload a photo in the usual way.  You'll then see the option to add a caption, filters and "tag products".  Select the item and the related image that you want to tag and follow the prompts.  You can put up to 5 product tags in a single image post.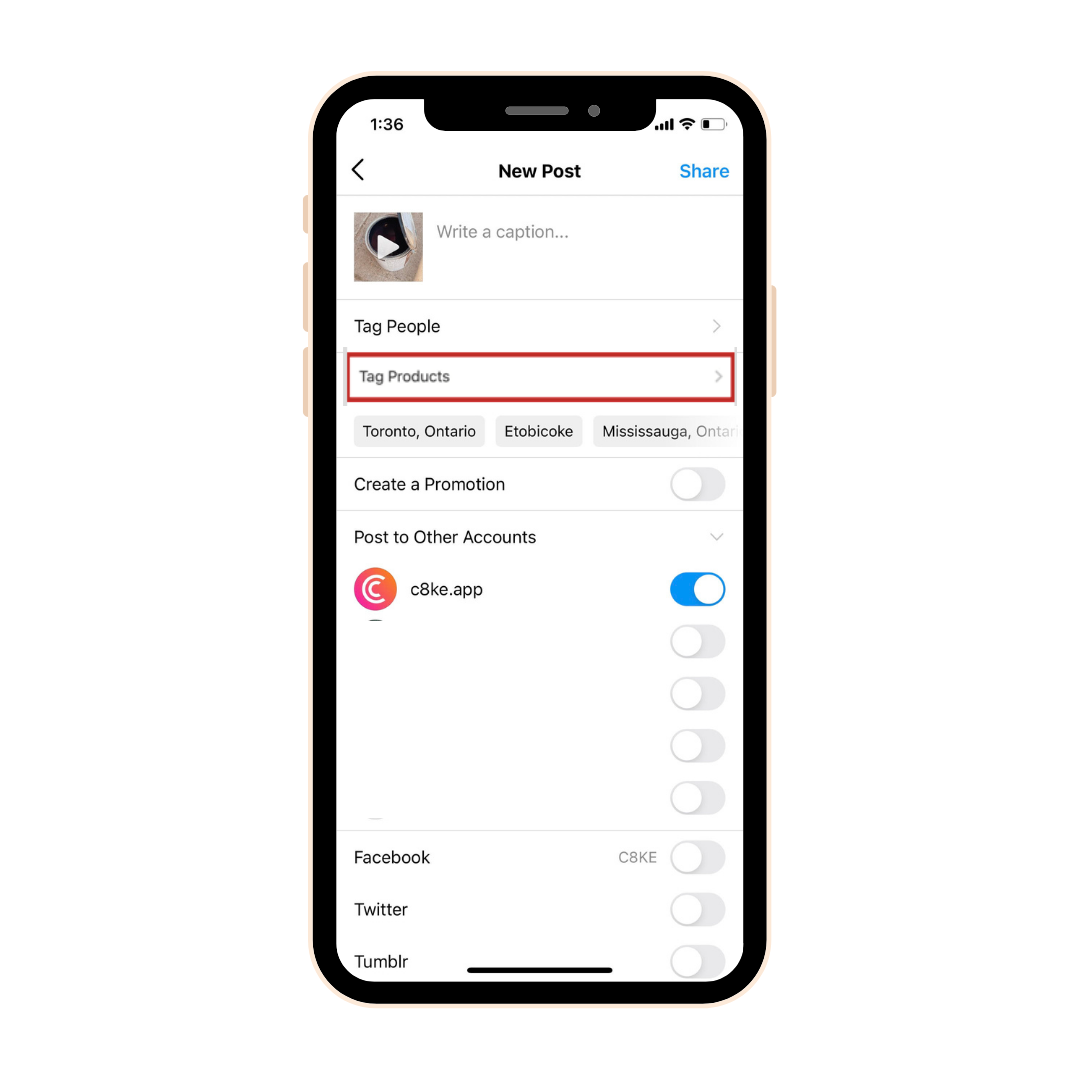 At least half of Instagram users enjoy the story feature, which can help you increase your following and sales.  To create a Stories post for your shopping account, upload the video or photo you want to use, then select stickers.  You'll see the option to add a product sticker.  Select it and follow the prompts.  You can change the color of the sticker, and move it anywhere in your story.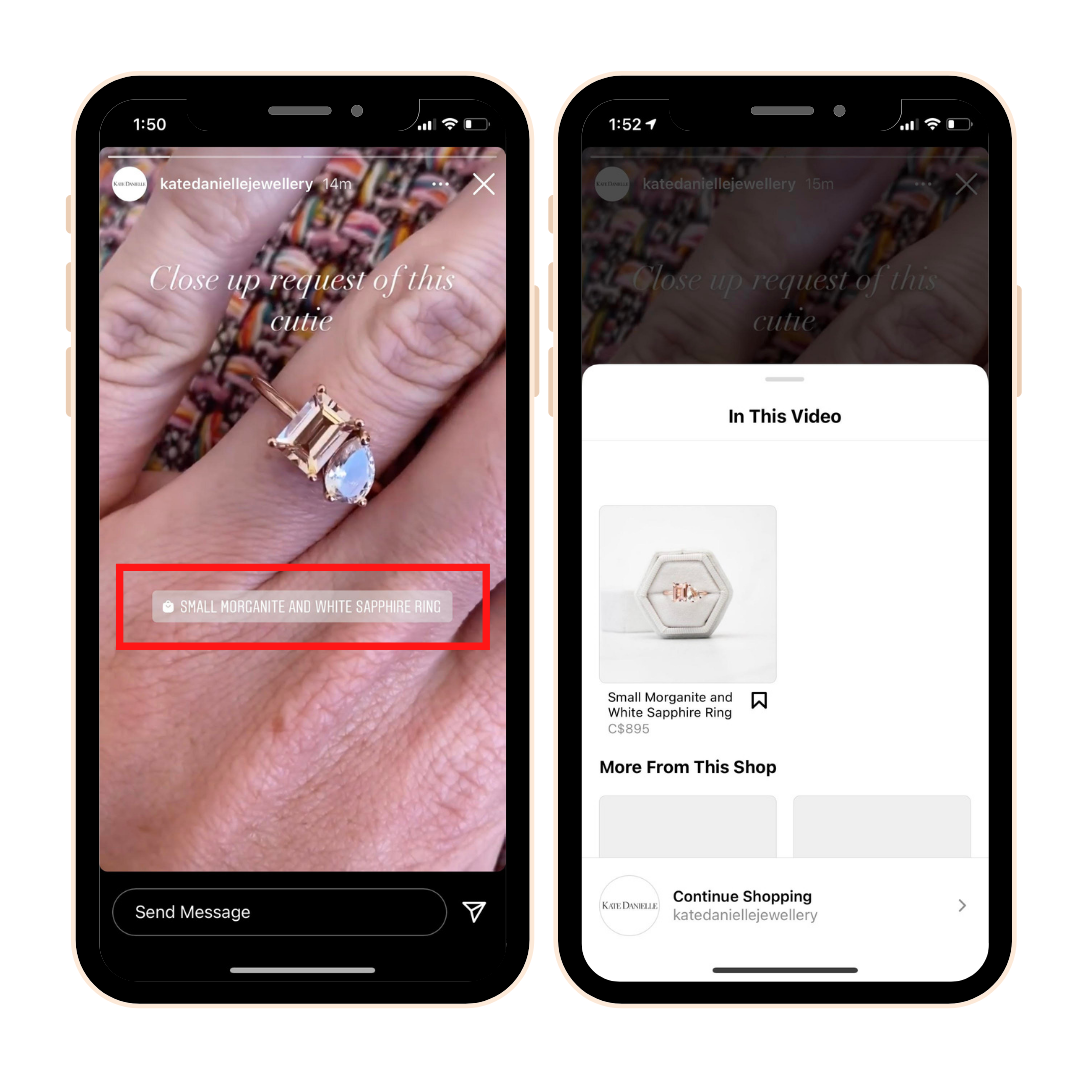 Kate Danielle Jewellery is a great example of how you can tag a product in a story post.  
Boost Your Instagram Shopping Posts    
Once you've mastered the ins and outs of Instagram Shopping posts, it's time to pull out all the stops to attract customers.  Here are some tips to boost your Instagram shopping posts:
Use Stunning visuals: Instagram is a visual platform, it can be quite competitive to get attention.  Be sure that you use your very best images and videos.  That means be creative and use high resolution content.
Hashtags: Be strategic in your use of hashtags.  Adding hashtags to your post allows your content to be discovered by more users.  This, in turn, can bring more customers to your digital door.
Use Tags Sparingly: Having some space between the product tags in your post is aesthetically pleasing.  Keep in mind that many mobile screens are quite small and it is easy to look cluttered if there are too many tags.
Add user generated content:  Diversify your posts by using content created by your customers that showcases your products.  Just be sure to request user rights before posting.
Product Videos: Creating how-to or product demonstration videos is a great way to attract attention and engage your audience.  It also provides proof of product, which is a powerful sales tool.
Strong CTAs: Give users a reason to click through by creating compelling call-to-actions.  It also lets your users know what actions to take next.
The Best Alternative to Instagram Shopping
Instagram shopping isn't for everyone.  Given the fees Instagram charges per transaction and the lack of consumer data a business can obtain, it might be worth looking into other options.  
Introducing C8ke, a completely free platform that lets you create a customizable landing page that can be linked in your Instagram and Tiktok bio worry-free.  We have a unique shoppable gallery feature that can act similarly to Instagram shopping.  For each post you create, you can link to a custom URL or to shoppable product links.
What is C8ke
Using C8ke, you can create and customize a unique landing page that features important links, social channels and allows you to create easy shoppable posts and videos.
Example landing page you can link in your Instagram bio: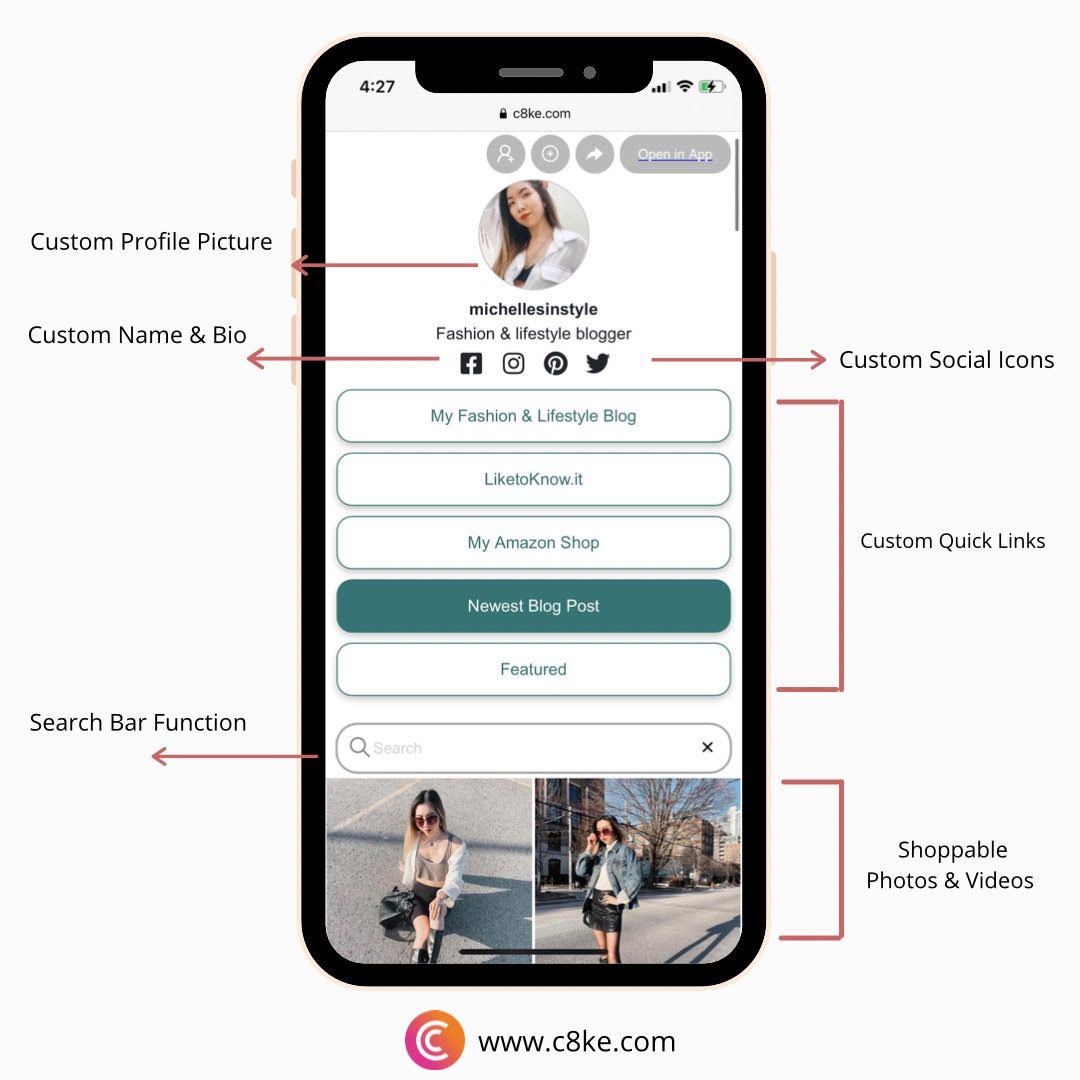 Key Features of C8ke
C8ke has many features for you to use, and the best part is that they're all free!
1) Custom Profile Picture
Customize your photo, styling, and the size of your profile picture
2) Custom Name and Bio
Here you can customize your name and tell your audience a little bit about yourself in your bio
3) Social Media Icons
Link to all of your social channels in one place
4) Custom Quick Links
Here you can link all of your most important links.
Examples include:
Youtube videos, websites, blogs, media kit, storefront, Etsy shop, promotional codes (that link to the related website), and more!
There are endless options.
5) Search Bar Function
Your audience can use the search bar function to find specific products, photos, or videos posted in your shoppable gallery.
6) Shoppable Gallery that contains photos and videos (linked to your third party affiliate networks)
The shoppable gallery function is C8ke's most unique feature.  Here you can upload a photo or video and either link to:
A custom URL (which is a clickable link in the C8ke App)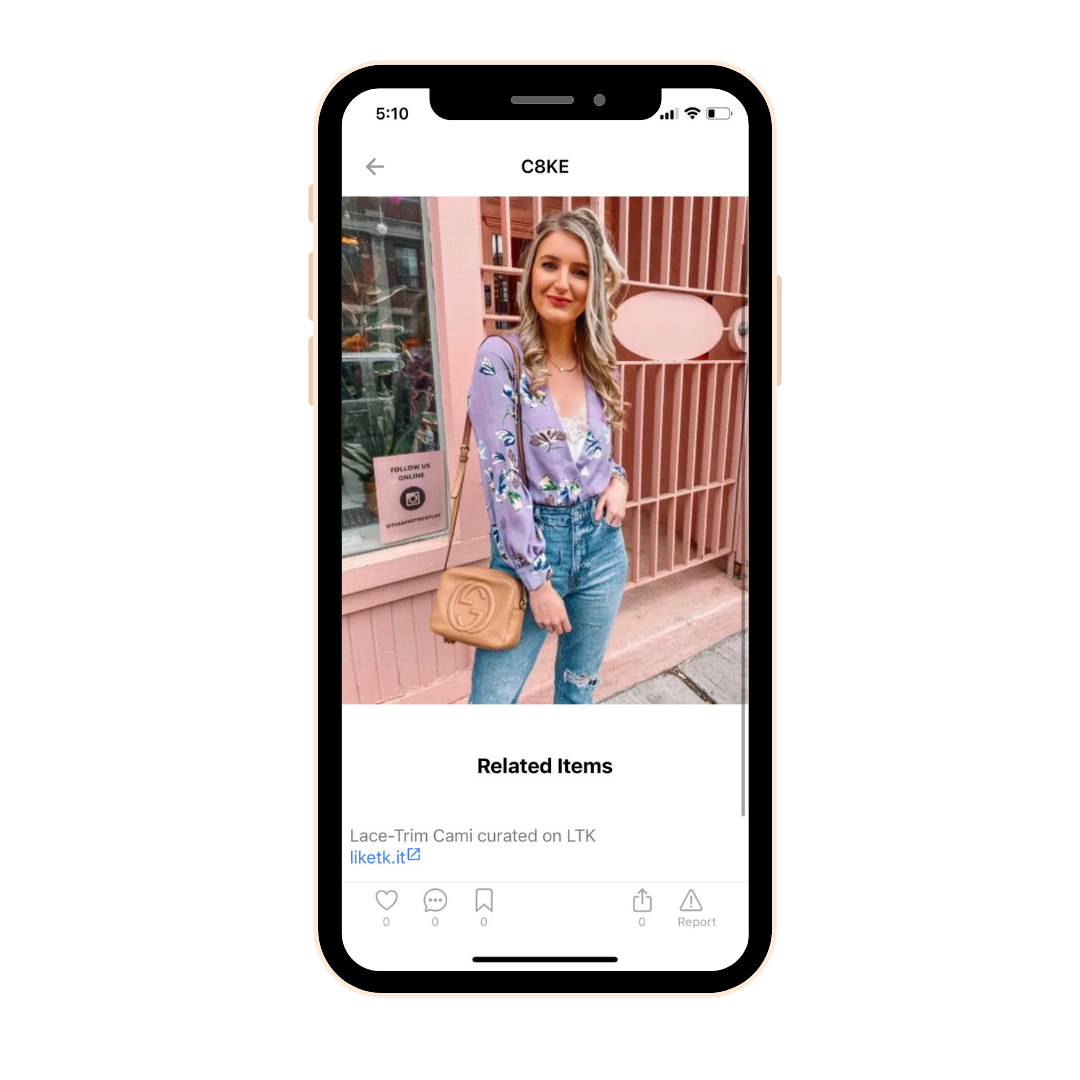 A post with shoppable products
All of these product links can be linked to either your amazon affiliate account, Viglinks, Skimlinks account or they can be made from a custom URL.  C8ke does not take a percentage of your affiliate sales.  We are simply the bio link landing page that your links sit on.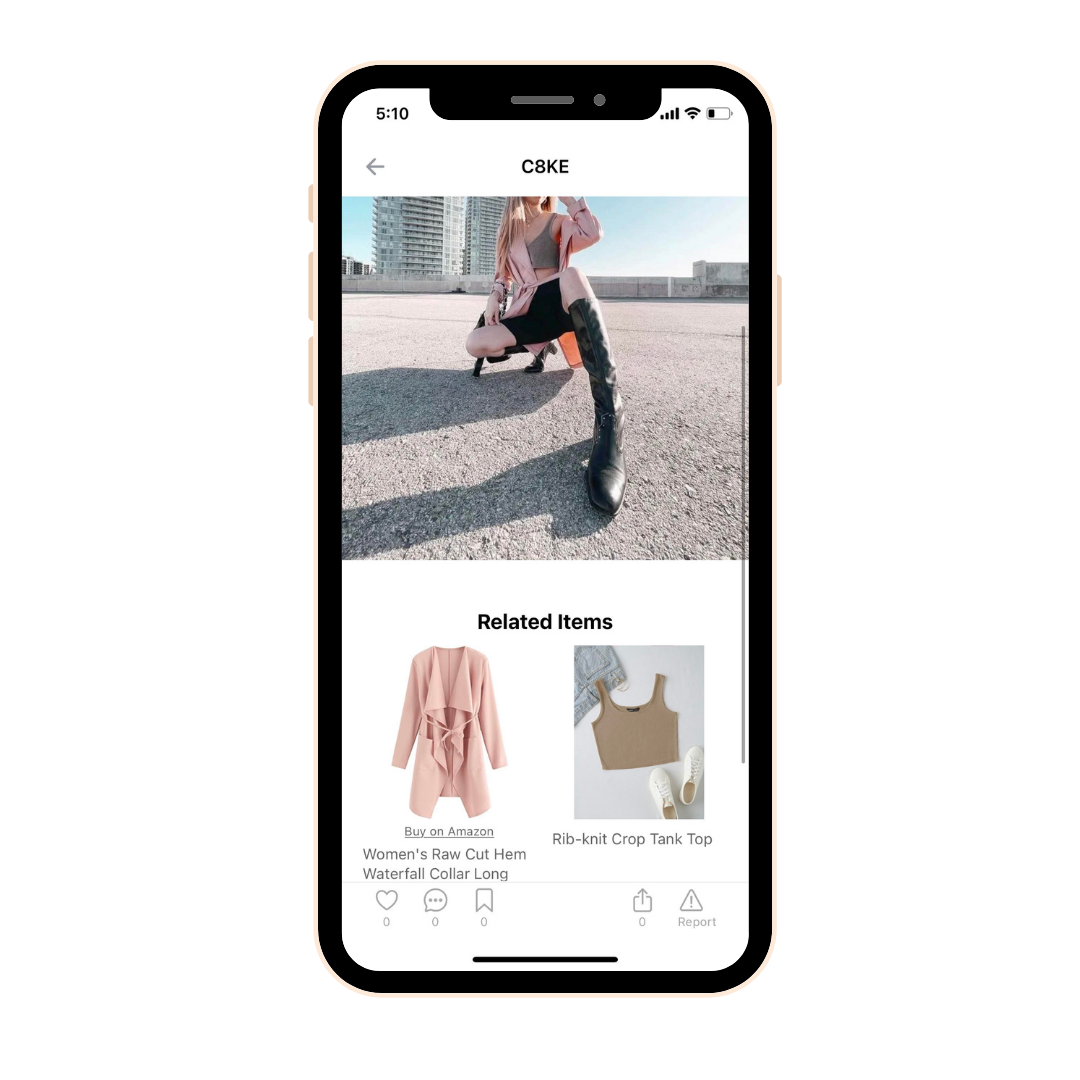 Want to know more about C8ke?  See how to use the C8ke app here and start getting more out of your Instagram bio link!
C8ke Guide: How to use the C8ke app